Blundon Centre celebrates two decades advocating for students with disabilities
By Moira Finn | April 29, 2013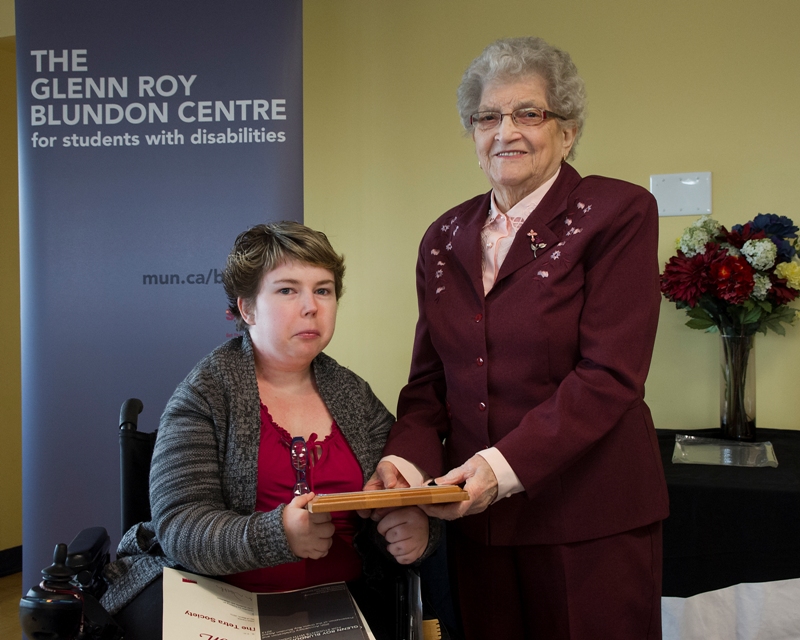 While the personal, academic and professional success of students who've come to the Glenn Roy Blundon Centre over the past 20 years is a source of pride for Ruth North, she derives nearly as much inspiration from the changing attitudes of people who don't need the centre's help.
"Across the university, amongst employers and in society – there is a much greater understanding of disabilities and an appreciation for the value of diversity," said Ms. North, manager of the Blundon Centre and someone who has been involved with the centre since its inception in the early 1990s. "There's still much work to be done and everyone has a role to play."
This message of co-operation and collaboration was heard throughout celebrations marking the 20th anniversary of the centre, held at the University Centre recently. More than 100 well-wishers from across the university, as well as disability community organizations and government agencies, joined staff, students and members of the Blundon family to celebrate two decades of work supporting students with disabilities.
Dedicated to the memory of former Memorial student who was a leading advocate for equality and accessibility issues at Memorial, the Blundon Centre assists students facilitating access to information, services and campus facilities and raises awareness of the value of inclusiveness. From a few dozen students at the start, the centre now delivers a range of services for hundreds of students each semester, from test and exam accommodation, to assistance technologies such as speech-to-text software, and convocation accommodation. It also provides training and advice to faculty, staff and others to better meet the needs of students with disabilities.
Dr. David Wardlaw, Memorial's provost and vice-president (academic), commended the Blundon Centre for enhancing collaboration throughout Memorial, enabling many different areas of the university to play a role in improving accessibility for students with disabilities.
"Access means more than removing physical barriers. It also means developing services to break down barriers to personal and academic development and enhancing the quality of student life," he said while addressing the gathering. "Memorial is dedicated to giving equal opportunity to all students and we recognize the importance of the role the Blundon Centre plays and celebrate how its services have grown over the past two decades."
Valda Aucoin, a Memorial alumnus and lifelong friend of Mr. Blundon, spoke of the kind of inspiring person Mr. Blundon was, particularly during his years as a student at Memorial.
"Glenn did not look at life as having limits, but rather as being limitless," she said. "He broke the mold on so many things that he opened people's eyes and hearts to the power of determination."
Rhyder Evans, a recent Memorial graduate who availed of Blundon Centre support while a student, said the centre was critical to his success academically and beyond.
"Often times it is difficult for people to look for support. However, asking the Blundon Centre for support helped me reach higher than I could have on my own," he explained. "They made me comfortable in a stressful situation and they made it possible for me to express the full depth of my knowledge. For the assistance the centre provided me and continues to provide to people with disabilities, I thank them."
Ms. North was quick to acknowledge that members of the university community, including student groups, individual faculty members and support staff, academic and administrative units, fitness facilities and libraries, have all partnered with the Blundon Centre and community organizations to give students with disabilities equal access to a university education and experience.
"We feel we have received tremendous support from the university and I expect in the decades to come, we will see even more growth in university-wide collaboration that will benefit all students."