Hooking with Mary Dalton
By Janet Harron | June 3, 2013
The work of English professor and poet Mary Dalton doesn't appear to have a lot in common with the mash up scene of hip hop.
But it could be argued that Hooking, her latest volume of poetry, certainly does.
Hooking is a collection of centos, collage forms with ancient antecedents. These centos are composed of lines taken from other authors; they are comparable in ways to DJs' sampling and remixing music to create something completely new in the process.
"I first made a collage poem in response to an invitation to contribute to the 30th anniversary issue of the journal ARC. I found that the process was challenging and led to the creation of interesting effects, so I continued making them. I learned about the ancient cento only later," said Professor Dalton. "Cento means patchwork."
The author of five collections finds that writing poetry is an "inductive rather than a deductive process – one engages in a negotiation with the medium of language. Like the mathematician, the physicist, one is always open to possibility."
Original centos were passages (rather than single lines) woven together from the work of one poet. In Hooking, Prof. Dalton's poems add an additional constraint. They consist of lines occurring at the same point in the linear structure of the poems they come from. For example, the 15-line poem Ravel consists of the seventh line of 15 poems from 15 poets as diverse as W. B. Yeats, Oliver Goldsmith and Billy Collins.
"The collage form allowed me to work in a surreal mode to express a vision of contemporary existence in which disintegration, disorientation and alienation are recurring motifs," she said.
"Also, the poems contribute to ongoing critical conversations about appropriation, authorship and intertextuality. And the poems speak to aspects of Newfoundland insofar as the Newfoundland situation is part of a larger world crisis. Actually, Newfoundland permeates the book, through various motifs, marine and others."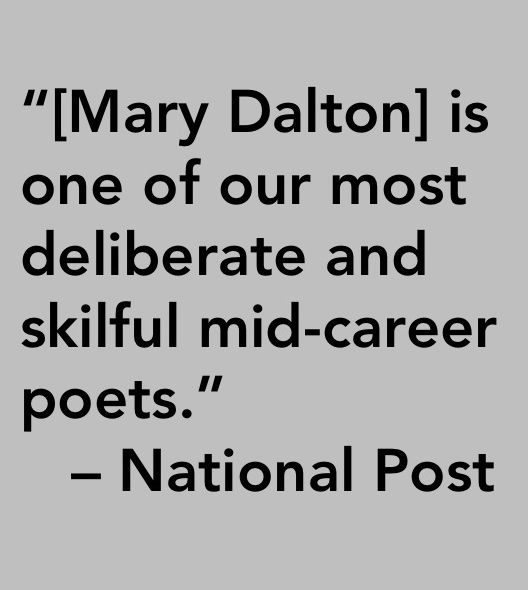 Body imagery is one of several image patterns uniting the book as a whole. Several of the titles contain images of hands (Shattered Hand, Brush-Stroke), appropriate images, says Prof. Dalton, in a book dedicated "to the makers."
"That dedication is for the poets whose lines became material for this book, but it is also for the mat-hookers who covered the chilly floors of their houses with mats hooked from cloth which had had an earlier function as clothing or bedding."
Craft images form another motif in the book.
Upon reading Hooking and perusing the vast list of sources at the back of the book, one is struck by Prof. Dalton's encyclopedic knowledge of the poetic canon. When questioned about this, she observes, "One of the side-pleasures in making this book was in reading—and re-reading—ravenously poets of so many cultures, so many schools. I lingered with old favourites, and discovered many new ones."
Hooking has already made a number of best-of new poetry lists this literary season in national forums such as The Globe and Mail and cbc.ca. It was recently launched in Montreal, Toronto and Ottawa, arousing considerable interest.
The St. John's launch party is happening on Monday, June 3, from 5-7 p.m. in the Cox & Palmer Second Space at the LSPU Hall. All are welcome to come celebrate this unique work.
Hooking will be available for sale at the Memorial University bookstore after June 3.