'I am the variable'
By Janet Harron | May 24, 2013
The first in a special successful student feature in the lead up to spring convocation 2013.
Kayla Carroll might be a small-town girl but she's definitely not living in a lonely world.
The native of St. Lunaire-Griquet (approximate population 700) on the Northern Peninsula is a networker extraordinaire.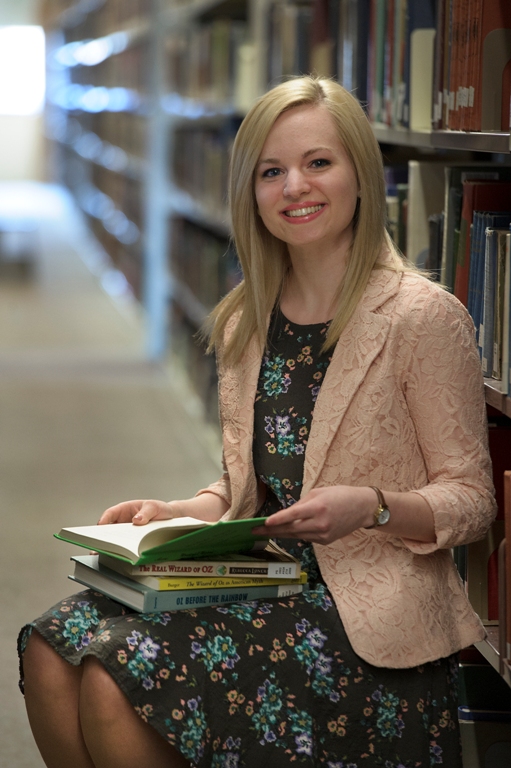 A multiple scholarship winner, the list of Ms. Carroll's on-campus volunteerism includes student representative on the Arts Faculty Council, the Faculty of Arts' academic planning committee, Memorial's Senate, the President's Award for Teaching Excellence selection committee and as an orientation assistant co-ordinator. This academic year alone she was master of ceremonies at the annual Entrance Scholarship Award Dinner, and a mentor with the International Student Advising Centre while holding down two on-campus jobs -- one with the Scholarships and Awards office, the other with Answers. She is also the founder of Girl Power, a workshop designed to empower and motivate young girls to achieve greater personal success and self-esteem.
"I have a strong sense of purpose to mentor and inspire and engage other people," said Ms. Carroll. "I was very overwhelmed during my first semester here at MUN and I've never forgotten that feeling and those who helped me get over that hurdle."
Graduating with a major in English and a minor in Newfoundland studies, Ms. Carroll will be an master of arts folklore student in fall 2013.
Her four years at Memorial have given her an interesting perspective on the concepts of home and identity.
"As an outsider in St. John's, I am making decisions that construct my own idea of identity. Home becomes the constant and I am the variable. I therefore measure that change, my changes, against the constant," explained the new graduate, noting the importance of continually reflecting on how that identity is constructed and has changed the longer she is away from her home town.
During her convocation ceremony on May 28, Kayla Carroll was awarded the Chancellor's Undergraduate Award, as well as the A.C. Hunter Prize in English, a $100 honorarium given to the graduating student majoring in English who stands highest in the general degree program; the George M. Story Convocation Medal in Arts, a $100 prize awarded for academic excellence and a strong commitment to serving the university and the community; and the Fry Family Foundation Undergraduate Leadership Award, an award worth $2,500 for leadership responsibilities, as well as contributions to student life and the surrounding community.