Biennial international choral music festival returns to capital city
By Mandy Cook | June 25, 2013
Festival 500: Sharing the Voices, one of the most prestigious, non-competitive choral events in the world, has embraced and hosted the international choral community on this province's shores by the thousands every other year since 1997. This year, from July 3-10, performance halls and concert stages in St. John's will swell with the sound of the world's best vocalists once more.
Whether you are a performer or a music enthusiast, there is something for everyone. This year's lineup features 30 international choirs performing a suite of concerts at various local venues, as well as an academic symposium – The Phenomenon of Singing -- from July 7-10 on Memorial University's St. John's campus.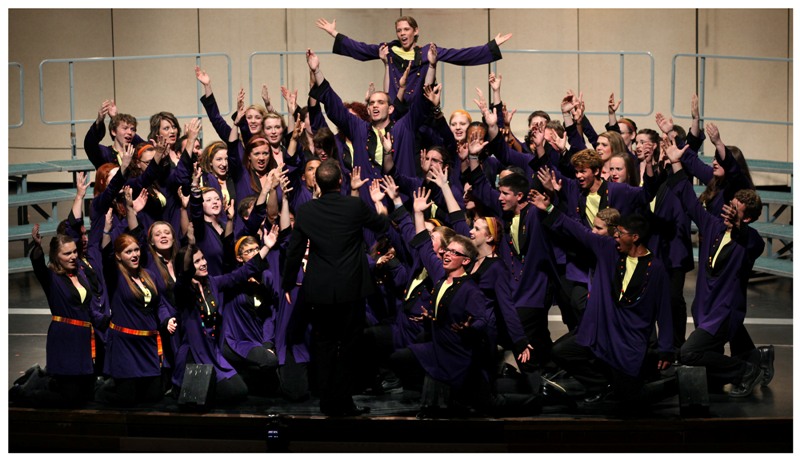 "There is so much happening during the festival and symposium, sometimes it's hard to get your head around it," said Dr. Andrea Rose, artistic director, Festival 500, and a professor in Memorial's Faculty of Education. "There are countless concerts and symposium sessions to take in. We are inviting individuals who are not affiliated with a choir to "Come Solo" and perform as part of the Come Solo Festival Choir. Then there are workshops and master classes with world-renowned artists, approximately 100 symposium presenters with 14 countries represented, and a Choral Institute for music and education students earning credit towards their graduate degrees. All symposium sessions are open to the public at per sessions or day rates. The festival and symposium are truly interdisciplinary in every sense of the word."
From the performance halls at Memorial's School of Music to the stage at the Arts and Culture Centre to Gower Street, St. Andrew's and Mary Queen of Peace churches, song will reverberate throughout the capital city for seven days. At the heart of the festival are the World of Music concerts which feature three choirs in each concert. This main concert series occurs over four nights of the festival in two or three venues each evening. Each concert sees three choirs perform their repertoire for 20 minutes apiece and then sing together in keeping with the "sharing the voices" theme of the festival.
Another highlight of Festival 500 is the massed choirs, where participating choirs come together to rehearse and sing in two huge choirs (youth and adult), will be presented at the cultural event of the year: the grand finale concert titled Vocal Fireworks! before an audience of thousands at Mile One Centre on Wednesday, July 10. As an additional musical boost, the massed choirs will be accompanied by the Newfoundland Symphony Orchestra under the direction of conductor Marc David.
The grand finale concert will also see festival headliners Witloof Bay, a Belgium-based, a cappella group, take to the stage, as well as a solo performance by Newfoundland's own internationally recognized tenor David Pomeroy singing favourites O Sole Mio, Nessun Dorma and Danny Boy.
Tickets for the grand finale concert at Mile One Centre and all other Festival 500 concerts are now on sale. Please visit the festival's website at www.festival500.com for show times and for more details about how you can participate in the festival and symposium.