Memorial researcher receives new Canadian Cancer Society grant
By Sharon Gray | Aug. 26, 2013
Dr. Mani Larijani, a biomedical sciences researcher in the Faculty of Medicine, has been awarded a new Canadian Cancer Society Innovation Grant to study how to stop an immune system enzyme from turning some immune cells into aggressive cancer cells. The presentation was made Aug. 22 at Daffodil Place.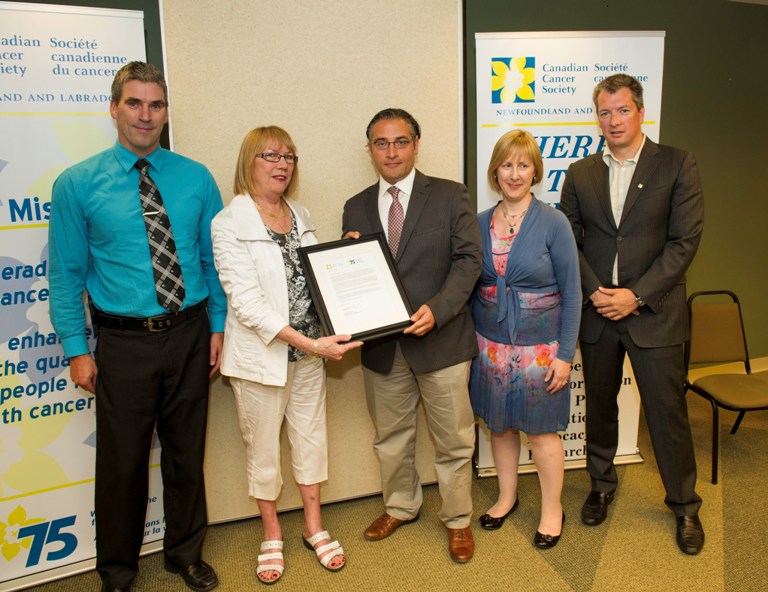 The three-year grant, worth close to $200,000, is funded through a generous donation from the estate of W. Gary Rowe, a successful St. John's lawyer, art collector and philanthropist who died June 21, 2010.
"Research was important to Gary and community was important to Gary, "said Betty Simms, Mr. Rowe's wife. "This donation brings those two things together so wonderfully. We are proud to be supporting this project."
Dr. Larijani and his research team are studying a DNA-damaging enzyme called activation induced deaminase (AID) that mutates the genome of normal immune cells, thereby transforming them into leukemias. "AID also contributes to tumor adaptation and drug escape by continuing to mutate tumor genomes," said Dr. Larijani. "Therefore, inhibiting its activity will be of benefit for lymphoma/leukemia treatment. We will use this grant to study several innovative approaches towards designing specific inhibitors of AID activity."
While AID makes antibodies more effective at fighting infection it can also mistakenly turn some immune cells into the most aggressive types of cancers and may also make some tumour cells resistant to cancer treatments. "AID makes these mistakes in almost half of the genes in those immune cells," said Dr. Larijani. "We will be studying the function of the enzyme in lymphoma and leukemia."
Not much is known about how the structure of the AID enzyme and how it works, and Dr. Larijani's lab is one of the few research groups working with AID. The team has already made some interesting discoveries related to this enzyme, including comparing how AID works in different animals and humans and computer modelling of AID. "This new project builds on this pioneering work, studying the enzyme in details to determine which are the critical parts of its structure so that treatments can be developed to block its harmful functions," said Dr. Larijani.
At the presentation ceremony at Daffodil Place, hematologist Dr. Mary-Frances Scully said that cancers of the blood and immune system cover a whole spectrum of disorders, including 120 different sub-types. "In children acute leukemia is the most common cancer of the blood. In adults, about 20 per cent of cancers are cancers of the blood and immune system."
Dr. Mike Woods, past president of the Canadian Cancer Society NL Division and a genetics researcher at Memorial, described Dr. Larijani as a "rising star in the Faculty of Medicine." He noted that there were a large number of applications for this grant and the applications were reviewed in the same pool as all other Canadian applications, through a rigorous process at the national level.