Understanding a global perspective
By Sandy Woolfrey-Fahey | Sept. 18, 2013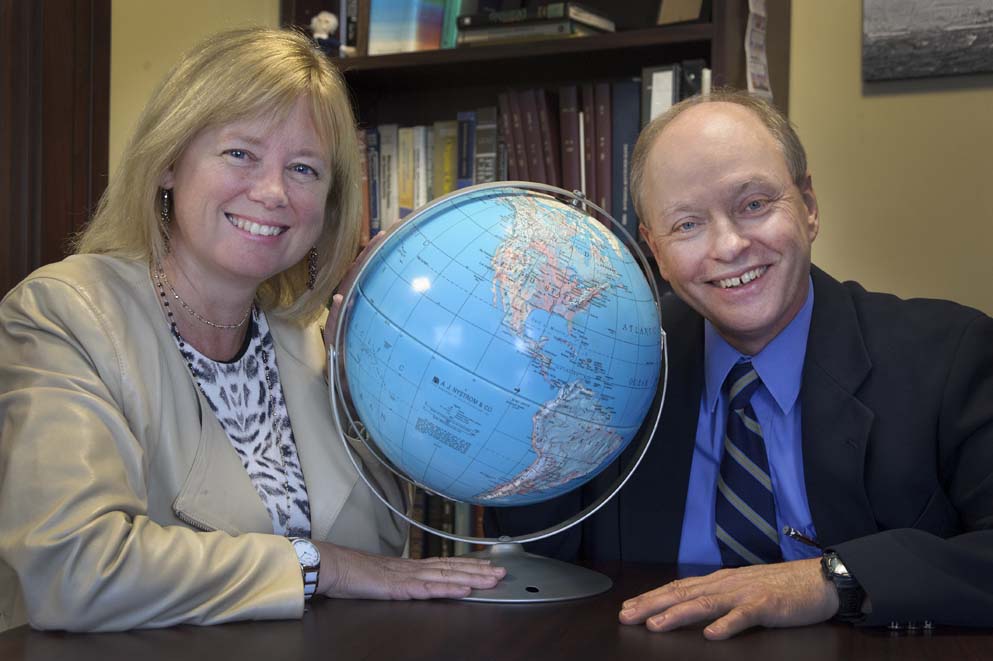 Plans are gearing up at Memorial University for the preparation of a white paper on internationalization. These plans were put into motion at the July 16 meeting of the Vice-Presidents' Council, when members approved the document's terms of reference.
There is substantial international activity happening at home and abroad on all campuses and across all portfolios and units involving faculty, staff and students; however, the full extent and value of international activity is not fully ascertained.
Individual international plans and strategies exist at Marine Institute and Grenfell Campus and are components in many faculty, school and department strategic or academic plans, but no comprehensive, pan-university plan exists.
"To move forward effectively on an international level as an institution, we need a formalized international strategy and framework to support decisions and direction," explained Dr. David Wardlaw, provost and vice-president (academic). "As well, at Memorial we are aspiring to become one of the most distinguished public universities in Canada and around the world. To achieve excellence, we need to create a shared understanding of what is encompassed by 'internationalization' and to develop our goals in this area."
Internationalization at Memorial has many domestic and international components and implications.
"It's the commitment and activities which give it shape," said Bill Chislett, director of Marine Institute International, "which then form a key part of the culture of our university and its relations with external parties in Canada and around the world."
Internationalization involves recruitment, settlement and retention of international faculty, staff and students. As well, it includes domestic students' participation in international activities at home and abroad. It considers incorporation of international themes and intercultural perspectives in the curriculum and extra-curricular activities supporting a safe learning and teaching environment. International partnerships, research and collaboration also factor into the broad picture. This list is neither exhaustive nor limiting, but shows the many touch points for internationalization at Memorial.
"Memorial is a gateway for faculty, staff and students to engage the outside world. There are endless opportunities to connect Newfoundland and Labrador to the global market," said Sonja Knutson, director, International Centre, St. John's campus. "These connections allow us to reap economic, talent and labour benefits. Internationalization also contributes to developing the next generation of globally-engaged leaders while enhancing the quality of life in this province and abroad. A concrete international plan is win-win for everyone."
The white paper will look at internationalization in the context of other university plans including the three frameworks, the university's vision and mission statements, campus, faculty and school plans and enrolment plan for 2020 that is anticipated this fall. As an added benefit, Memorial's work on internationalization supports the provincial and federal governments' immigration strategies as plans aim to attract and retain students, educators, researchers and other talented individuals to Newfoundland and Labrador.
Coming out of this process, the working group on the white paper foresee the creation of a framework that will provide a context for all campuses and international stakeholders at Memorial to develop strategic internationalization goals and a pan-university plan through to 2020.
"Given that our campuses differ in their own unique strengths, the white paper will help with awareness, co-ordination and mutual support across the campuses and provide flexibility for local requirements so all our efforts in this area are of optimal benefit," said Ivan Emke, facilitator for internationalization, Grenfell Campus.
This fall, a consultant with the International Centre will conduct interviews, an environmental scan and literature review as well as validate findings of past internationalization work at the university to identify key components, benefits and challenges of internationalization in Memorial's context. The white paper summarizing these findings is scheduled to be presented to the president and provost in December 2013.