Fall honorary degree recipients announced
Sept. 25, 2013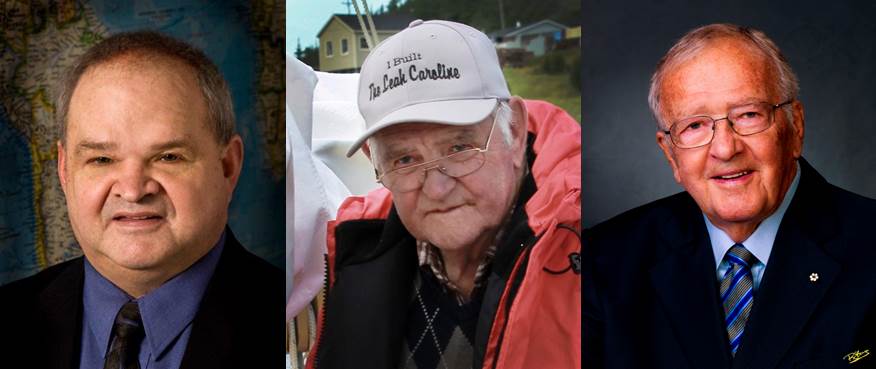 Memorial University has announced the names of three people to whom it will award honorary doctorates at fall convocation ceremonies in October.
The Corner Brook session of fall convocation will take place at the Arts and Culture Centre on Friday, Oct. 4. Master boat builder Henry Vokey will receive an honorary doctor of laws degree.
Businessman Capt. Sid Hynes and retired chief justice Hon. Dr. T. Alex Hickman will receive honorary degrees at fall convocation sessions in St. John's on Friday, Oct. 25, at the Arts and Culture Centre. Biographies of all honorary degree recipients follow below.
Honorary degree recipients are chosen by the Senate, the university's academic governing body, after careful examination of the grounds for their nomination.
The honorary doctorate is designed to recognize extraordinary contributions to society or exceptional intellectual or artistic achievement.
The awarding of honorary doctorates, an important feature of Memorial's convocation, serves to celebrate both the individual and the university as well as to inspire graduates, their families and guests.
Some 900 students will receive their degrees during fall convocation. Seven distinguished retired faculty members who were recently accorded the title professor emeritus/emerita by the university's Senate will be presented: Dr. Robert Adamec, Psychology; Dr. David N. Bell, Religious Studies, Dr. Lan Gien, Nursing; Dr. Gordon Jones, English; Dr. Ronald Rompkey, English; Dr. Shannon Ryan, History; and Dr. Stephen Wolinetz, Political Science. (Dr. Michael Parmenter, Mathematics and Statistics, also named professor emeritus, will not be in attendance.)
The category of professor emeritus/emerita is open only to retired members of the faculty. To be eligible, a person must have served at least 10 years as a regular full-time faculty member at Memorial and must have held the rank of professor upon retirement. The prime criterion for nomination is sustained, outstanding scholarly work and/or service to the university.
Biographies
Henry Vokey
Henry Vokey has been surrounded by boats his entire life. He began building boats at age 12 when he constructed a six-foot model in the now-resettled outport village of Little Harbour in Smith Sound, Trinity Bay. At age 25 he began to take a serious interest in building boats as a means of survival and, after moving to Trinity in 1964, his business flourished.
During the 1970s Henry Vokey and Sons Shipbuilding employed close to 40 people. He has been active in the construction of more than 1,000 seafaring wooden vessels ranging from a 12-foot rodney to 65-foot draggers. The varieties include trap skiffs, sailboats, dories, schooners and numerous small-scale models.
Through the years there have been many changes where boat building is concerned, most notably the introduction of steel and Fiberglas models of fishing vessels. Despite these changes, Mr. Vokey remained determined to do as he always had done: he had spent so many years working with wood and had no desire to change to any other material.
In 2008 Mr. Vokey announced he would build one last schooner. He started in 2009 and the 44-foot double-masted wooden schooner named Leah Caroline was launched three years later in Trinity Bay. Named after his great-granddaughter Leah and his late wife Caroline, the schooner is still enjoyed by Mr. Vokey and his friends and family.
In 2007 Mr. Vokey received the Order of Newfoundland and Labrador. In 2008 he was awarded honorary life membership in Newfoundland and Labrador's Wooden Boat Museum and in 2012 was inducted into the Atlantic Canada Marine Industries Hall of Fame.
A significant contributor to the cultural traditions of our province, Henry Vokey will receive an honorary doctor of laws degree during the Corner Brook session of convocation at 10 a.m. on Friday, Oct. 4.
Hon. Dr. T. Alex Hickman
From lawyer to politician to Supreme Court chief justice, T. Alex Hickman has made a significant contribution to the life of this province.
After attending Memorial University College and earning a law degree at Dalhousie University, the Grand Bank native moved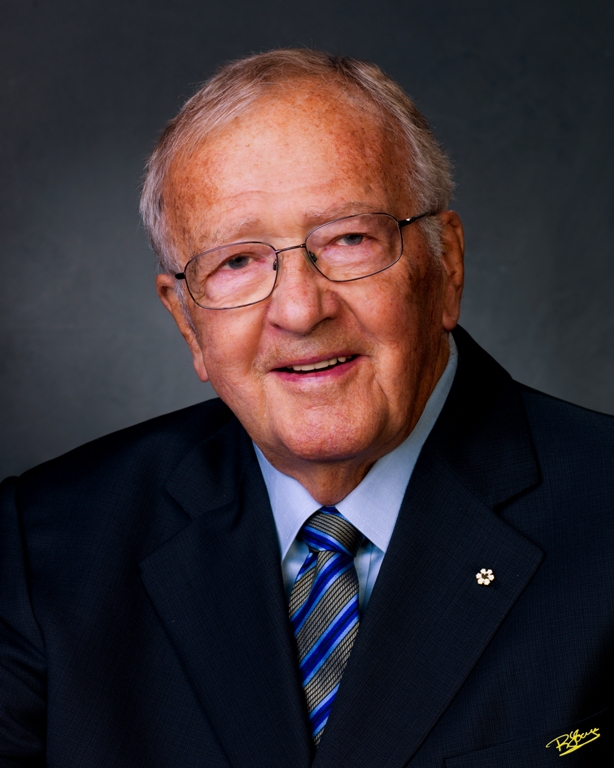 to St. John's in 1948 to practise law, where he eventually became a senior partner in a successful St. John's law firm. He was named Queen's Counsel in 1964.
First elected to the House of Assembly in 1966, Dr. Hickman served as minister of Justice and attorney general from 1966-69 and again from 1972-79. He also served at various times as minister of Health, Intergovernmental Affairs, Finance and Education. He was appointed chief justice of the Supreme Court of Newfoundland-Trial Division in 1979.
In addition to serving on various provincial, national and international legal bodies, Dr. Hickman was called upon to assist the province on some complex legal issues. The international maritime community acclaimed his four-volume 1985 report as chairman of the Royal Commission on the Ocean Ranger Marine Disaster. The seven-volume report of the Royal Commission on the Donald Marshall Jr. Prosecution, also produced under his chairmanship, was strongly endorsed by the Canadian justice system and by native and minority groups.
To honour his contributions, Dr. Hickman was awarded an honorary doctor of laws degree by Dalhousie University in 1986, an honorary doctor of laws from the Law Society of Newfoundland in 2000, the Memorial University Alumni Lifetime Achievement Award in 2003 and the Order of Canada the same year.
In 2001 the Grand Bank Courthouse was named the Honourable T. Alex Hickman Courthouse.
For his service to the administration of justice, Alex Hickman will receive an honorary doctor of laws degree during the 10 a.m. session of convocation on Friday, Oct. 25.
Capt. Sidney J. Hynes
Born in Harbour Breton, Capt. Sid Hynes left home at the age of 15 to go to sea. He joined Marine Atlantic as an assistant steward, a company he would later serve as chairman of the board.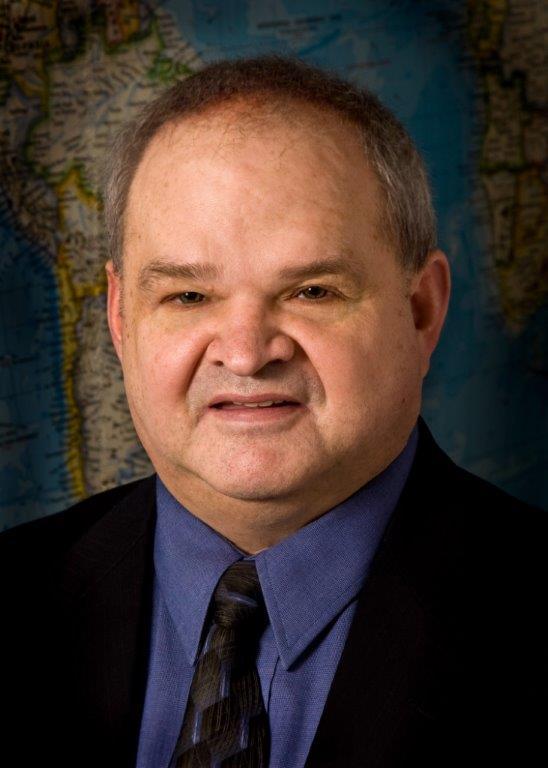 Capt. Hynes graduated from the nautical science program at Memorial University's Fisheries and Marine Institute and later went on to command a wide range of vessels operating around the globe.
From 1986 until late 2007, Capt. Hynes was president and CEO of Canship Limited, a company that he helped found.
In 2000 Capt. Hynes was appointed by the Canadian government as chair of the board of directors of Marine Atlantic. He was subsequently named acting president/CEO, a role he held for four years.
During his tenure with Marine Atlantic, the company achieved a 95 per cent customer satisfaction rate.
He was an active member of the Marystown Shipyard board at the time the shipyard went from a $10-million annual loss operation to a profitable position.
He currently sits as chair of Memorial University's Fisheries and Marine Institute Advisory Committee, a body that advises the university on fisheries and marine-related programs and activities.
Capt. Hynes has been honoured with numerous awards including honorary captain of the Royal Canadian Navy and a medal of merit by the Association of Canadian Port Authorities. In 2011 he was inducted in the Junior Achievement Newfoundland and Labrador Business Hall of Fame. In 2012 he was named to the Order of Newfoundland and Labrador.
Today Capt. Hynes is executive chairman of Oceanex Inc. and is focusing his energies on making this company the most successful transportation provider in Eastern Canada.
For his achievements in business and contribution to the community, Capt. Hynes will receive an honorary doctor of laws degree during the 3 p.m. session of convocation on Friday, Oct. 25.