Labrador Institute director named vice-president of University of the Arctic
Oct. 16, 2013
Dr. Keith Chaulk, director of Memorial University's Labrador Institute (LI), was installed as the new vice-president Indigenous for the University of the Arctic (UArctic) at a ceremony held in Reykjavik, Iceland, on Saturday.

Dr. Chaulk will continue in his role with LI, while concurrently providing guidance and leadership to UArctic related to the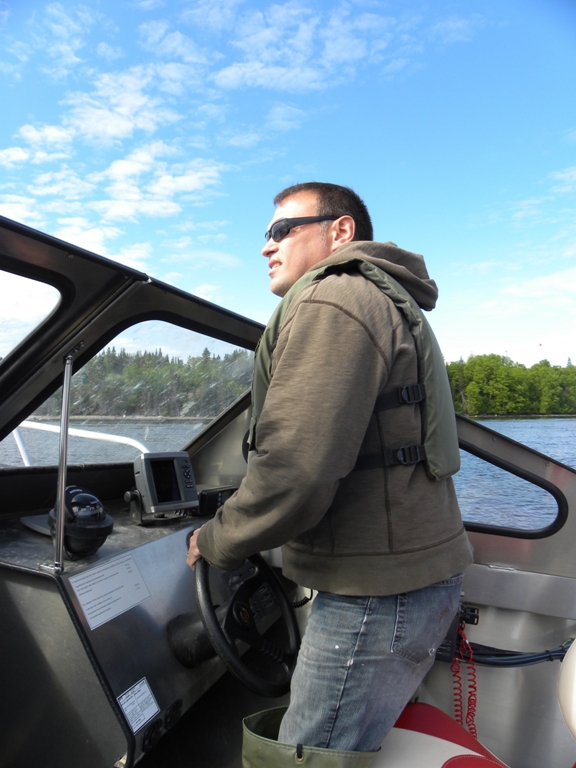 integral role of Indigenous peoples in Northern education and research.

"It is a personal honour for me to serve in this role," said Dr. Chaulk, himself of Inuit heritage. "It will allow me to bring my own academic experience, the resources and expertise of Memorial and my own cultural values to the team that will guide UArctic over the next three years."

UArctic is comprised of some 150 universities, colleges and other organizations committed to higher education and research in the North. The organization's overall goal is to create a strong, sustainable circumpolar region by empowering Indigenous peoples and other Northerners through education, training and shared knowledge.

Joining Dr. Chaulk in Iceland for his installation was Memorial University's president and vice-chancellor, Dr. Gary Kachanoski.

"This honour is a reflection on Dr. Chaulk and, by extension, the Labrador Institute of Memorial University," said Dr. Kachanoski. "Memorial's expertise in the areas of Arctic, Northern and harsh ocean ecosystems uniquely positions us to play a leadership role through UArctic and beyond. Working collaboratively with other institutions in Iceland and around the world allows us to leverage our individual strengths and promote excellence in areas relevant to the North. Dr. Chaulk will provide important leadership to our ongoing and important work in the areas of arctic and Aboriginal policy, research and advancement."

During his brief but busy trip to Iceland, Dr. Kachanoski signed a memorandum of understanding with Bifrost University to explore a number of future collaborative activities, including cross-promotion of programs, joint programs at the graduate level and the inclusion of distance education as an area of interest for student virtual exchange. Additionally, the Memorial University delegation, which also included Carey Bonnell, head of the School of Fisheries at Memorial's Marine Institute, attended the Arctic Circle conference, met with representatives from current partner universities of Westfjords and Akureyi, and several fisheries-related research installations.

Already there are tangible results from the relationships between Memorial and the Icelandic schools. The Marine Institute is currently hosting six exchange students from the University of Akureyi. These students are in their third year of a bachelor of science in fisheries program and are getting local hands-on experience learning about the local marine sector that will transfer as credit to their program of study in Iceland.
Some useful links:
University of the Arctic: www.uarctic.org
Arctic Circle Conference 2013: www.arcticcircle.org
University of Westfjords: http://hsvest.is/
University of Akureyi: http://english.unak.is/
University of Bifrost: http://www.bifrost.is/english