Learning the language of Wall Street
By Kristine Power | Nov. 27, 2013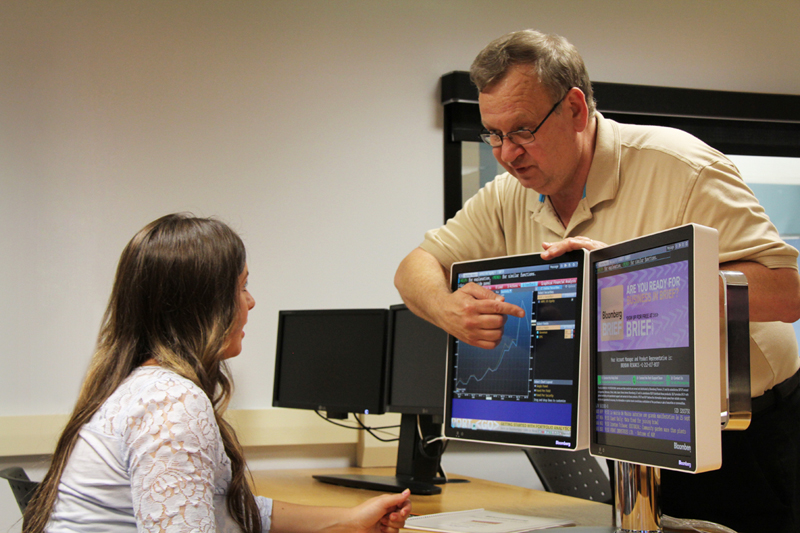 The Department of Economics in the Faculty of Arts and the Queen Elizabeth II Library have joined an elite group of academic units that offer access to a premier financial analysis tool called the Bloomberg Terminal.
The Bloomberg terminal allows users to interact with the global financial community in real-time and learn how to follow and interpret market-moving events that professional traders and money managers rely on to make critical decisions.
The installation of the terminal in the library was a collaborative initiative between the QE II and the Faculty of Business Administration, and is an extension of the White Trading Lab that was generously donated to the Faculty of Business Administration in 2011.
The terminal is named after Bloomberg L.P., the global business and financial information firm that delivers data, news and analytics around the world.
Josh Quinton, an equity derivatives specialist with Bloomberg L.P. and a Memorial commerce alumnus, helped negotiate the original donation of Bloomberg's software and equipment, along with fellow commerce alumnus Brad White, founder, CEO and CIO of EdgeHill Partners.
The White Trading Lab was initially created to attract commerce students and prepare future graduates for work in global investment, but the terminals also have the technology and capacity to provide current and historical information on major markets, companies, and industries; therefore, providing teaching and research opportunities that go beyond the disciplines of finance and economics to include health care, public policy and journalism, just to name a few.
"We are very grateful for this opportunity to partner with the Faculty of Business Administration in order to provide students and faculty with greater access to the prestigious Bloomberg Terminal and the indepth relevant information it holds. This tool will give students an unprecedented advantage as they begin their careers," said Lorraine Busby, university librarian.
"The White Trading Lab and its Bloomberg terminals have been a great asset to business students in their studies as they have been able to access and interact with real-time financial data," says Dr. Wilfred Zerbe, dean of the Faculty of Business Administration. "We're happy to help share this important resource with students in other disciplines so that they too can benefit from its use."
The Department of Economics installed a Bloomberg terminal using funds from CARE (the Collaborative Applied Research in Economics initiative). According to Dr. Wade Locke, the data on oil and gas and energy offered on Bloomberg will benefit the department by improving quantitative analysis on energy issues.
"We're excited and enthusiastic about the installation of our own terminal which is accessible to our faculty and to students and allows us to offer more sophisticated, helpful and useful analysis for the province of Newfoundland and Labrador," said Dr. Locke. "It's a small part of what we are doing overall to raise the profile of our department, our faculty and our university."
The Bloomberg Terminal in the QE II is available for use and is located in The Commons area of the QE II.
For information on how to use the resources and integrate Bloomberg into your curriculum, please contact Dennis Flynn, manager of information technology at the Faculty of Business Administration, by email at dflynn@mun.ca or by phone at 709-864-2160.