Partnering for enhanced cultural research and collaboration
Feb. 3, 2014
An agreement between Memorial University and the Nunatsiavut Government will help preserve and enhance the rich culture and heritage of Labrador Inuit while opening up a host of new opportunities for collaboration and partnerships.
Nunatsiavut President Sarah Leo and President Gary Kachanoski signed a memorandum of understanding (MOU) at the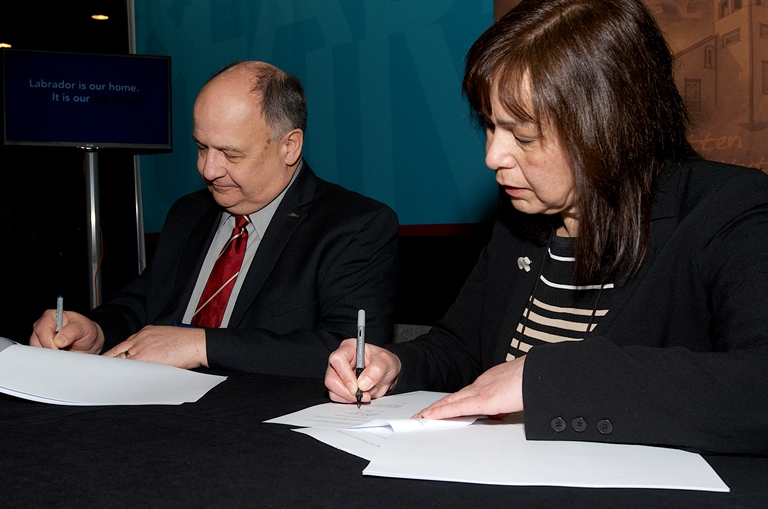 Northern Lights 2014 conference in Ottawa, Ont., on Saturday, Feb. 1.
The agreement provides a framework to facilitate collaboration in cultural research, policy development, leadership and administration and is based on long-standing co-operation between the people, institutions and leaders of Nunatsiavut and Memorial researchers, scholars and students.
"This agreement formalizes and advances a relationship that goes back decades and touches on many aspects of life in Nunatsiavut," said President Leo.
 "Our hope is that we can better preserve, share and celebrate the culture of Labrador Inuit with the help of Memorial's academic resources, while the university and others will benefit from a greater understanding and appreciation of Inuit expressive culture and traditional knowledge."
Dr. Kachanoski noted that a responsibility to place and a special obligation to the people of Newfoundland and Labrador are among Memorial's core values.    
"This partnership presents rich and diverse opportunities for collaboration in culture, arts, fine arts, social sciences and humanities. We greatly look forward to working co-operatively with the people and institutions of Nunatsiavut."
Among the areas of collaboration the MOU cites for further discussion include helping the Nunatsiavut Government build capacity in primary research and analysis, developing digital archives of the social history and culture of Labrador Inuit and further developing research and educational opportunities.  
The agreement also encourages Memorial to host Labrador Inuit community members on campus to work with researchers and the Nunatsiavut Government to host researchers and students from Memorial to assist in projects and to intern at government agencies.