MBA team wins inaugural P&G Cup with focus on new technology
By Susan White-MacPherson | March 4, 2014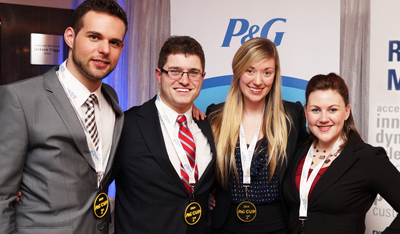 Insight into a new technology gave four Memorial University MBA students the edge to win an inaugural technology and innovation case competition recently.
Janine Brophy, Amy Fisher, Daan Goossens and David Winsor, all graduate students in the master of business administration (MBA) program at the Faculty of Business Administration, won the first P&G Cup competition at Ryerson University on March 1. The team is coached by Prof. Peggy Coady, director of graduate programs at the business faculty.
The P&G Cup was launched this year to address the growing role of technological innovation in global management practices. It's sponsored by Procter and Gamble and Ryerson.
Teams from across Canada were provided with a two-page problem provided by Procter and Gamble in advance of the competition. They had one week to research the problem and prepare a 20-minute presentation delivered during the competition.
Ms. Fisher, internet marketing specialist for Newfoundland and Labrador Tourism, says the team took a thorough approach to researching and presenting solutions to the problem, which asked for new and innovative ways to collect consumer data without having to rely on retail data collection.
"Through our research and consulting, we found a brand new technology called liquid metal circuit printing, which is a revolutionary new technology that will allow companies to print circuits at an extremely low cost on a variety of materials," she said.
This focus on innovation proved to be the deciding factor in the outcome of the competition.
"We were the only team that recommended a technology that no one had heard of," said Ms. Fisher. "The technology, linked with a comprehensive marketing solution, really made our team stand out. We also covered off associated legal and privacy issues, such as the new anti-spam legislation, in our implementation plan, which I believe was a wow factor. It really impressed the judges that we had such a holistic approach and such an innovative technology solution."
Memorial defeated 11 teams from across Canada to claim the title, including Ivey Business School at Western University, Rotman School of Management at the University of Toronto, Goodman School of Business at Brock University, Sobey School of Business at Saint Mary's University, Odette School of Business at the University of Windsor, Alberta School of Business at the University of Alberta, School of Business at Thompson Rivers University, DeGroote School of Business at McMaster University, School of Business & Economics at Wilfrid Laurier University, Ted Rogers School of Management at Ryerson University, and Telfer School of Management at the University of Ottawa.
Wilfrid Laurier finished second and the University of Ottawa finished third.
Earlier this year, the Memorial MBA team also finished as the top Canadian team at the annual 33rd John Molson MBA International Case Competition, the oldest and largest business case competition in the world.
Ms. Fisher says being exposed to a variety of educational and professional backgrounds from her fellow students in the MBA program is a factor in the team's success, as well as the program's coursework in online technologies and its focus on developing practical knowledge, all of which encourages innovation in students.
She also credits the diversity of experience from her teammates for the team's outstanding performance this year.
Mr. Winsor is an instrument and control systems engineer with Wood Group PSN, Ms. Brophy works in the strategy group at Johnson Insurance and Mr. Goossens is a full-time student with a background in information systems and strategic management.
"We have a very diverse team: an engineer, a marketer, a strategist and a professional accountant, which allows us to approach cases with different viewpoints and perspectives. We also just work really well together. We all respect one another's opinions and recognize the value that each team member brings to the table. It is really one of the best teams I have ever worked with," said Ms. Fisher.
"It's a little bittersweet, as we are all graduating this semester and this was our last case competition together, but it is certainly a great way to finish the program."