Doubling scholarly output by 2020
By Meaghan Whelan | March 20, 2014
A major new initiative aimed at strengthening all aspects of research at Memorial University was recently unveiled in draft form. Called the Strategic Research Intensity Plan 2014-2020, this plan builds on the Research Strategy Framework and charts the course for a historic transformation of Memorial's research activities and impact.
"As Memorial approaches the anniversary of its first century of existence, the province has time and again demonstrated its unwavering commitment to Memorial, and has steadily increased its financial support," said Dr. Richard Marceau, vice-president (research). "This has translated into significant success, and we can now afford to give ourselves goals and objectives which, only a few years ago, might have appeared outrageous rather than ambitious."
The central goal of the plan is to increase Memorial's scholarly dissemination by its faculty members in forms appropriate to the discipline by 100 per cent by Dec. 31, 2020. A closely associated goal is to increase Memorial's master and doctoral graduates by 100 per cent over the same period.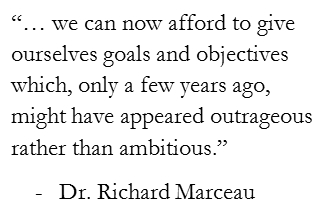 The creation of the plan included meetings with Memorial University's senior academic and administrative heads, student representatives and the university's formal advisory and decision-making bodies in the area of research. Consultations included all faculties and schools on the St. John's campus, and the Grenfell and Marine Institute campuses, as well as with the Labrador Institute.
During this consultation process, participants agreed that doubling scholarly output by 2020, while ambitious, was achievable provided that significant progress was made in establishing conditions of success.
The Strategic Research Intensity Plan identifies 12 recommendations to support this target.
The plan includes a number of recommendations aimed at providing a comprehensive environment for supporting faculty, including faculty member career support, research seed, bridge and multidisciplinary funding, improved research grant and contract facilitation and the allocation and/or creation of research chairs in all faculties, schools and campuses. The plan also calls for advocacy in favour of new provincial research funds in the health sciences and the arts, humanities and social sciences.
To better promote and support research opportunities for students, the plan recommends improved research-based graduate student support, undergraduate research incentive funding and the establishment of research-based master and doctoral programs at every school, faculty and campus. The recommendations related to student support will complement the university's Strategic Enrolment Plan currently under development.
Access to appropriate quality teaching, laboratories and office space is presently a substantial barrier to the expansion of research programs. The university is currently developing the Strategic Infrastructure Plan, which will identify the space and infrastructure needed to support all academic priorities, including enhanced research intensity. This plan will provide clarity on priorities and timelines of individual projects, facilitate planning in all units and emphasize quality project management.
In order to ensure that the recommendations of the Strategic Research Intensity Plan are implemented, the university will identify suitable metrics and implement formal metric-tracking processes. This will include a university-wide process for creating an annual inventory of the scholarly dissemination of its faculty members.
The draft Strategic Research Intensity Plan 2014-20 is available to the entire university community for review. To download a copy, visit www.mun.ca/research/2014_university_consultation.pdf.
Feedback will be accepted until Monday, April 14, via email vp.research@mun.ca, or internal mail, Office of the Vice-president (Research), A-2021, St. John's campus.