Canada Foundation for Innovation funds four Memorial research projects
By Meaghan Whelan | April 22, 2014
Four Memorial researchers have received funding from the Canada Foundation for Innovation (CFI) in a funding competition meant to help institutions attract and retain some of the world's most talented researchers.

"Innovative research has the potential to transform our understanding of the world, yet it often requires significant financial support," said Dr. Richard Marceau, vice-president (research). "This investment from CFI will support four of Memorial's up-and-coming researchers as they generate new discoveries in the areas of climate change, learning and memory, atmospheric chemistry and soil in offshore and Arctic environments. It will also create enormous learning opportunities for students and help them develop the skills they need to positively impact society."
More than $320,000 has been awarded to researchers in the Faculties of Medicine, Science, Engineering and Applied Science, and Grenfell Campus.
Dr. Harunur Rashid, assistant professor in earth and environmental sciences, Grenfell Campus, is one of the researchers who received funding. He is studying the impact of climate change on water resources.
"Continual addition of greenhouse gases to the atmosphere and the ensuing temperature rise will not only alter the precipitation amount and seasonality but it will also shift the timing and duration of snow and sea-ice melt," he said. "This, in turn, will greatly strain the water resources to supply the needs of the ever-growing population of our planet. Understanding the current state of climate and changes in precipitation and snow, river outflow, groundwater, contribution from sea-ice melts and freshwater outflow from the Arctic are of paramount importance to predict climate in Atlantic Canada and the rest of the world."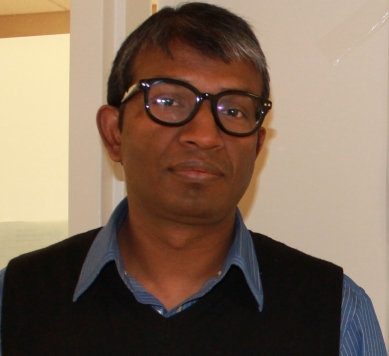 He received funding for a research instrument that can be used in the laboratory and in the field to study water isotopes. This instrument will allow researchers to extract ecological, environmental, hydrological, climate, and oceanographic information from a variety of natural waters, including precipitation, rivers, groundwater, lakes, sea-ice melt, and sea surface.
Ed Holder, minister of state (science and technology), made the announcement as part of a $30.4 million investment in research infrastructure at 32 universities across Canada. The funding was awarded under the CFI John R. Evans Leaders Fund.
Funded projects:
Dr. Bipul Hawlader, Faculty of Engineering and Applied Science, Advanced Dynamic Cyclic Simple Shear Apparatus
Dr. Harunur Rashid, Division of Science, Grenfell Campus, Acquisition of a Liquid Water Isotope Analyzer for Hydrological, Geochemical, Ecological, and Oceanographic Research
Dr. Cora Young, Department of Chemistry, Faculty of Science, Gas-Phase Sampling Instrumentation for Ocean-Atmosphere and Biosphere-Atmosphere Interactions
Dr. Qi Yuan, Division of Biomedical Sciences, Faculty of Medicine, Construction of an Electrophysiological Recording System