Expanding the borders of a pharmacy education

By David Penney | May 1, 2014
A pharmacy degree and a passion for humanitarian work have taken a Memorial alumna around the globe.
A graduate of Memorial's School of Pharmacy in 2006, Jessica Burry knew early on that she wanted to work abroad and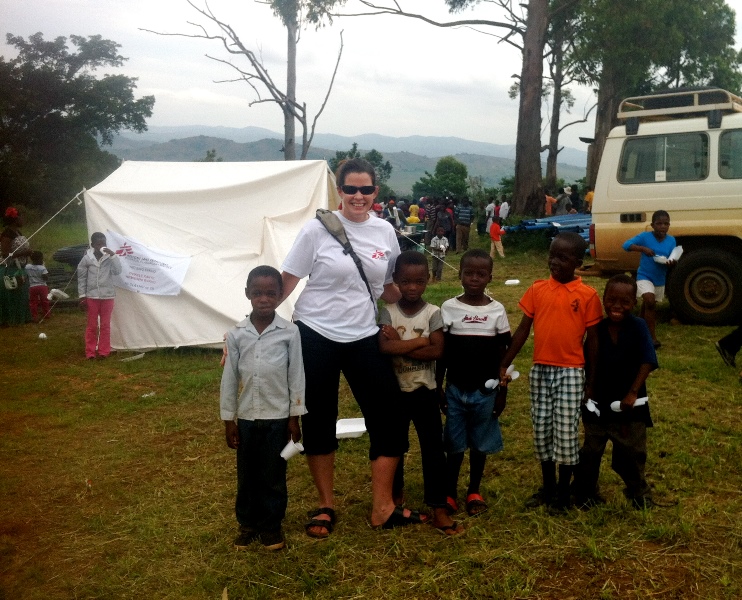 help those most in need. After completing her residency in Ottawa, Ont., she volunteered to do a one month trip to Gabon in West Africa with a non-governmental organization (NGO) called CACHA (Canada Africa Community Health Alliance). Subsequent trips to Tanzania and Benin with CACHA, along with a stint working in the HIV clinic at St. Mike's Hospital in Toronto, Ont., confirmed her path.
"That's where I got my feet wet working with HIV patients and it really influenced me in terms of what I wanted to do abroad," said Ms. Burry. "I eventually went back to Ottawa and a position came up with OHAfrica, which was a three-month stint at a HIV/TB clinic in Lesotho. From there I took my first mission with Médecins Sans Frontières (MSF), in Swaziland in June, 2012."
Ms. Burry's mission in Swaziland was part of a larger and ongoing response by MSF to the HIV and tuberculosis problem in that African nation. HIV is considered a national emergency in Swaziland, a country with one of the highest rates of HIV in the world. In addition, poor access to treatment for tuberculosis patients puts those individuals at risk to become drug resistant, making their condition much more dangerous and difficult to treat. An added complication is that more than 70 per cent of tuberculosis patients also have HIV, which increases pill burden, drug interactions and adherence issues.
"The work I did with MSF in Swaziland was focused on capacity building," she said. "That really included two things. The first was training people on the ground -- and in the beginning of that mission I spent a lot of time training laypeople to become a team of 12 dispensers in rural clinics. The other side of the work was supporting the Ministry of Health with supply management. When treating HIV and TB, it's all about access to care, diagnostics and of course, treatment. A good supply chain is essential to ensure that patients don't run out of the drugs they need."
After a year in Swaziland, Ms. Burry took a short contract with UNICEF in Denmark, working with the United Nations Commission on Life-Saving Commodities for Women and Children. In that role, she supported their mandate to improve access to quality medications for women and children in a number of developing countries. Working with UNICEF's technical team, her job was to ensure medications considered for procurement met international standards. Ms. Burry's current position is with the International Union Against TB & Lung Diseases in New York, N.Y. She is now providing pharmaceutical and supply chain support for their Technology, Research, Education and Technical Assistance TB project, in particular for research related to decreasing treatment time of drug resistant tuberculosis.
In 2013, Ms. Burry received the School of Pharmacy Alumni of the Year Award, but was unable to travel to St. John's for the ceremony. She is planning to return to Newfoundland and Labrador in September and has been asked to give a presentation to students at the School of Pharmacy's student orientation.
"It's important to me to put some focus on a non-traditional career path, and hopefully generate some interest in working abroad for MSF and other NGOs. Usually we think of doctors and nurses working in the humanitarian sector, but there are plenty of opportunities for pharmacists, too."