Enactus Memorial wins national championship, advances to World Cup
By Susan White-MacPherson | May 7, 2014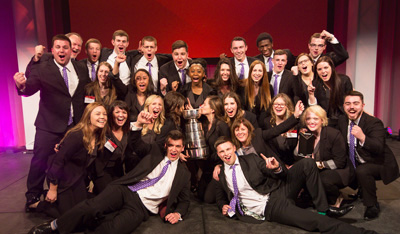 Enactus Memorial has cemented its position as one of the top teams in the world with another win at nationals.
Memorial brought home a seventh national title in nine years – a feat no other team in the world has matched – from the Enactus Canada National Exposition, April 28-30 in Calgary, Alta.
"We were able to take the cup back home this year due to the breadth of projects we run, their reach and the overall direct results of the programs," says Jon King, president of Enactus Memorial. "We've been able to change the lives of 3,000 people with our 10 community projects, which have resulted in 53 businesses and 92 jobs being created.
"We focus on changing lives in Newfoundland and Labrador, across the country and around the world. This diversity of impact along with the unique social, economic and environmental aspects of our programs allowed us to stick above the rest."
Enactus is an international non-profit organization that mobilizes university students to develop outreach projects that improve the quality of life and standard of living for people in need. Universities and colleges across the world compete in regional and national competitions for the chance to demonstrate the impact of their community projects at the world championship each year.
Enactus Memorial was the national runner-up in 2013 and won the title in 2012. In 2008, they won the Enactus World Cup.
"I'm so proud of the team," said faculty advisor Lynn Morrissey, who is an assistant professor of communications at the Faculty of Business Administration. "It was a tough competition, and winning wasn't in any way a certainty. Every student on our team worked hard for this achievement, and it was very well deserved."
Memorial took on SAIT Polytechnic, Université Sainte-Anne, Kwantlen Polytechnic University, University of Victoria and the University of Saskatchewan in the opening round.
In the semi-final, Memorial faced the defending champions to whom they had lost the previous year: Ryerson University.
"In our semi-final league selection, we had the last choice of time slot, leaving us with no other choice but to face the defending champions," said Mr. King, a fourth-year commerce student. "This league also included St. Lawrence College, the Campbell's Help Hunger Disappear national champions, and Simon Fraser University, a strong west coast team. After what was quite possibly the toughest semi-final league in Enactus Canada history, we emerged victorious."
After two days of competition, Memorial faced Okanagan College, Lambton College and Saint Mary's University in the final, with Memorial emerging as the winner.
Ian Aitken is the founder of Enactus Canada and was a judge in the final round.
"I cannot remember a year when the final four teams were as universally strong as they were this year. That is a good thing for the program and for the communities where the projects are taking place, but it makes it much more difficult for the judges to pick the winner," said Mr. Aitken. "It was a very close competition this year, and Memorial won because the scale of their projects was somewhat greater and their presentation connected well with the judges. They also took a risk in not focusing on some of their long-running projects and instead highlighting more recent initiatives. The gamble evidently worked."
Enactus Memorial's presentations focused on six projects. AGreenCulture, Project Bottlepreneur and Project Stitch were presented in detail with highlights given of Planting Potential, World at Work and The Prince's Operation Entrepreneur.
Memorial will now compete at the World Cup competition in Beijing, China, in October.
"Worlds takes things to a whole new level," said Prof. Morrissey. "We're Team Canada, and have the honour and responsibility of representing our country on the world stage. The calibre is world class. We'll prepare by first focusing on making our projects stronger and more impactful, and then in early September, we'll focus on how to tell that story."
"We are going to hit the ground running and grow our current programs as much as possible over the next six months," added Mr. King. "Our current programs still have heavy growth left. We are looking at taking AGreenCulture to over 50 farms, having Bottlepreneur in every province and getting Project Stitch neckties in retailers all around Atlantic Canada."
Forty-nine teams took part in the national competition.