Doctoral student receives prestigious national award
By Sharon Gray | May 14, 2014
The road to being a successful PhD student involves dedication and an enthusiastic approach to research. Justin King, a doctoral student in the Immunology and Infectious Disease Program of the Faculty of Medicine, has received a three-year Frederick Banting and Charles Best Canada Doctoral fellowship from the Canadian Institutes of Health Research (CIHR).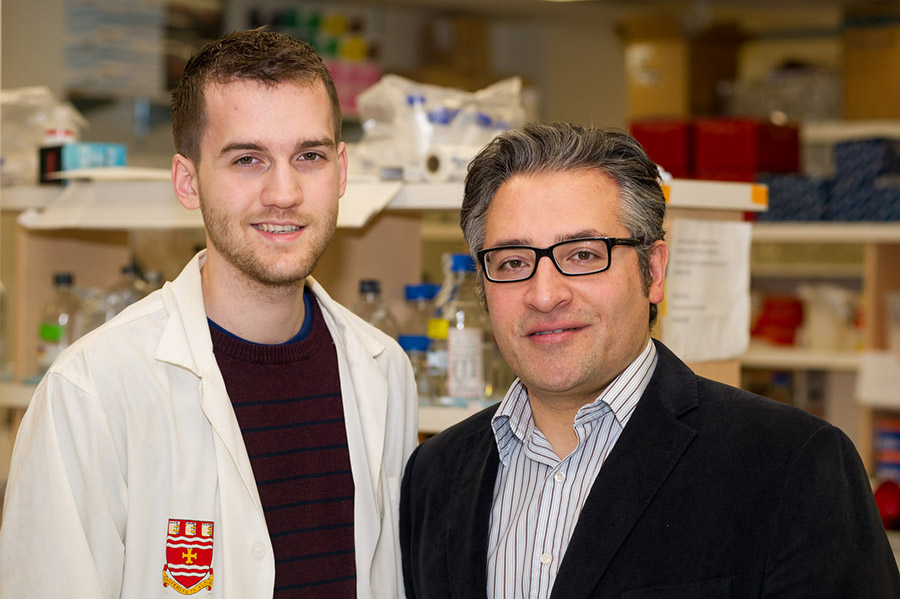 Mr. King's supervisor is Dr. Mani Larijani, assistant professor of immunology and infectious diseases. Dr. Larijani is proud of his student placing fourth nationally out of 750 applicants. The application evaluation is a highly competitive and rigorous process.

"Multiple reviewers rank the student's track record of academics, letters of reference, and the funding, publication and mentorship track records of the supervisor," explained Dr. Larijani. "We are pleased that our application was ranked as outstanding in all of these areas."
Mr. King's other awards include a graduate fellowship from the Beatrice Hunter Cancer Institute in April of 2012 and a Poster Award from the Canadian Society for Immunology's annual conference in the summer of 2012. He ranked first to win both of these awards. In addition, Mr. King has won the Dean M. Ian Bowmer Graduate Travel Award in Medicine, the Program Prize for Immunology and Infectious Diseases Award for the Best PhD presentation, the Canadian Society for Immunology Travel Award and the Terry Fox Research institute travel award.
In the words of Dr. Jules Doré, assistant dean for graduate studies (medicine), this is a "rather impressive" list.
As a child growing up in Mount Pearl, Mr. King had a strong interest in science. With encouragement from his parents and several teachers at O'Donel High School, he cultivated this interest and went on to pursue a degree in biochemistry (honours) at Memorial.
He remembers several professors from his days as a biochemistry student who inspired him – in particular, Dr. David Heeley, professor of biochemistry; Dr. Andrew Lang, associate professor of biology; Dr. Sherri Christian, assistant professor of biochemistry, and Dr. Rodney Russell, associate professor of immunology and infectious diseases. Mr. King joined Dr. Larijani's laboratory first as a summer and honours project undergraduate student and transitioned into a graduate student in the lab.
"At first I wasn't sure if I was going to do a M.Sc. or a PhD, but I soon decided that I loved doing research and I entered the doctoral program."
Dr. Larijani's research program involves DNA-mutating enzymes in the human body that sometimes go awry and lead to cancer. Mr. King is currently immersed in research that he describes as "a cross between computer simulation and wet lab research to figure out mechanisms of enzymes that mutate DNA."
As for the future, Mr. King anticipates completing his PhD sometime in 2016 and going on to a post-doctoral position. Eventually he hopes to follow his mentor's career path and obtain a faculty position in his area of expertise. It's a difficult goal, but one that he hopes he can achieve, with the support of his mentor Dr. Larijani.