Alumni enable student success through White Trading Lab

By David Penney | May 20, 2014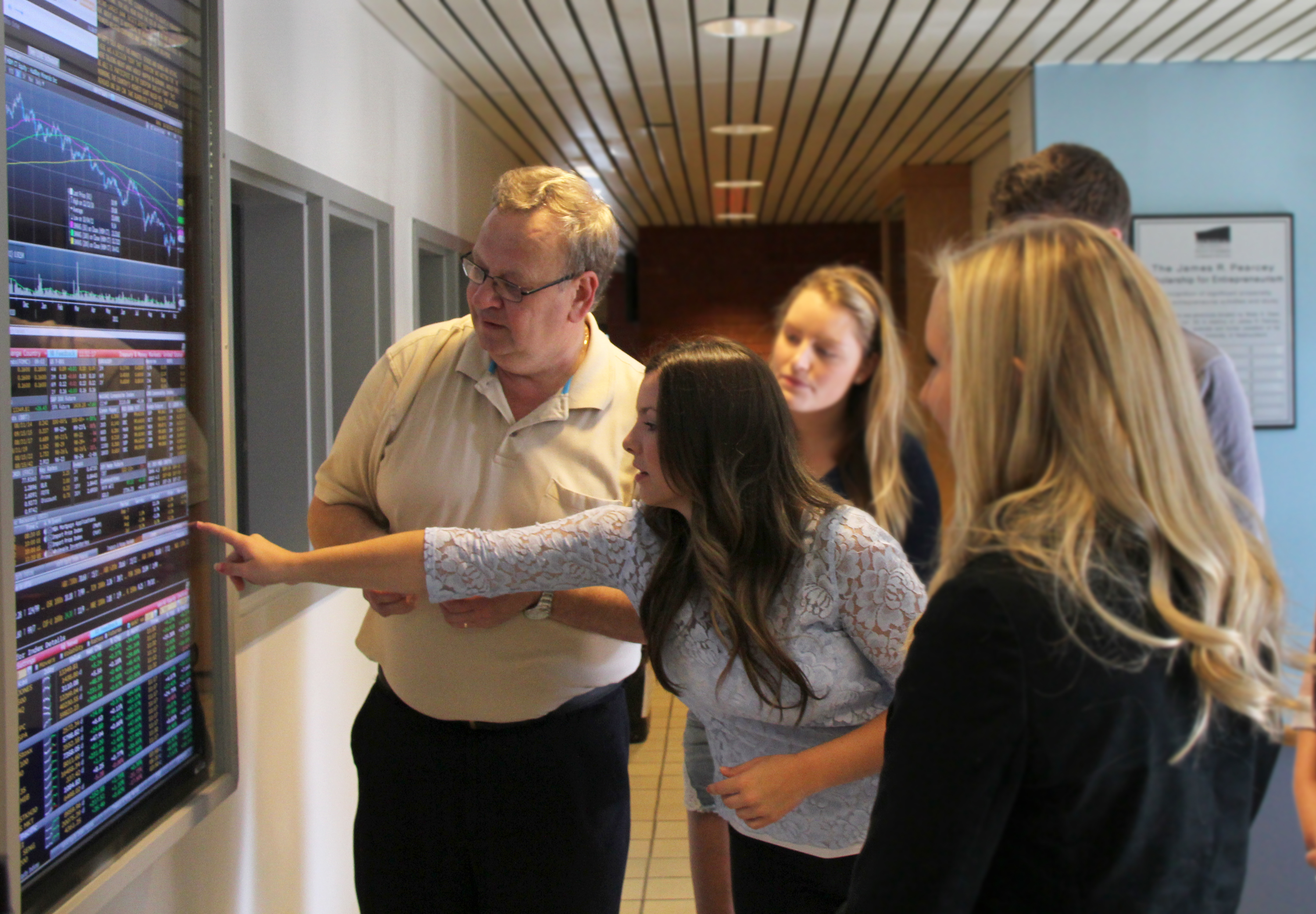 The trading floor of the New York Stock Exchange is a little closer to Newfoundland and Labrador thanks to Brad White and Josh Quinton.
Despite graduating over 15 years apart from Memorial's bachelor of commerce (co-operative) program, the two alumni joined forces on a special project, pledging different contributions to support the same goal.
In the fall of 2011, the Faculty of Business Administration unveiled the White Trading Lab, making Memorial one of only a handful of universities to house such a facility.
The new financial and research trading lab was made possible by a generous donation from Mr. White, a member of the class of 1991. He's the co-founder, CEO and CIO of Toronto-based EdgeHill Partners, and founder/director of the Embley Park Foundation. Mr. Quinton, who graduated in 2007, is an equity derivatives specialist at Bloomberg in New York City. Mr. Quinton subsequently helped negotiate a deal with Bloomberg for the purchase of operating software and several pieces of equipment for the lab and has also co-ordinated training for students and faculty.
The state-of-the-art trading lab offers students and faculty a unique experiential teaching and learning opportunity by allowing users to interact with the global financial community in a real-time setting. Students have access to global market information including equity, fixed income, commodity, foreign exchange and all derivatives information, research and analytics.
A recent expansion has seen the lab extended to the Queen Elizabeth II Library on the St. John's campus. A Bloomberg terminal that has been added to the library can access many of the same resources available in the trading lab itself. Because the terminals have the ability to provide current and historical information on major markets, companies and industries, teaching and research opportunities beyond the disciplines of finance and economics are also being realized.
Dr. Alex Faseruk, professor, Faculty of Business Administration, said he and other faculty members utilize the lab for a number of courses at the graduate and undergraduate levels.
"We use the lab in many different ways for courses in investments, options and futures and corporate and international finance," he said. "For example, in the investments courses, the trading lab is used to research economic, fundamental and technical analyses with current market data prior to competing in the stock market simulation. It also provides ongoing data and support during the simulation and then analysis for success or failure. While there are several databases used in delivery of different courses, the most important one is the Bloomberg database which is widely used in the securities industry."
Peter Shears will receive his bachelor of commerce (co-operative) degree this month at spring convocation. While a student in the program, he also worked in a support role in the White Trading Lab.
"While I think it's always very important to give back, I think the lab in particular is a fantastic way to do so because it reaches so many students," he noted. "It was an incredible tool for me and I suspect I speak for many more than myself when I say that it boosted my interest in business. As an accounting student also interested in finance, the depth of the Bloomberg database and other analytical tools really showed the resources available to business people when making decisions. Overall, the lab provided me with a different perspective because it's so much more hands-on than most classroom settings."
The benefits and learning opportunities made possible by the White Trading Lab make it clear that its construction didn't just fulfill a need. As one of just a few universities in Canada to have a facility like this, it sets Memorial -- and the province -- apart. Mr. White puts the project in perspective.
"The lab allows students to experience finance in a way that just can't be replicated in a normal classroom, so there's clearly a competitive advantage," he said. "But I think what makes it even more exciting, if fostered correctly, are the growth opportunities created by the lab at Memorial and for the province. As we attract students from across Canada and abroad, we also promote and support a growing investment management industry that is important for Newfoundland and Labrador. Individuals, institutions and government invariably need their capital managed. It should happen in Newfoundland and Labrador, and building this skill set can be an important cog in that reality."