Steps to success

By Jeff Green | May 26, 2014
Khaleel Mohammed doesn't hide his enthusiasm for moving the more than 10,000 kilometres from India to Newfoundland and Labrador in January 2013.
"It's simple: Memorial University and St. John's," the master's student in oil and gas engineering recently said with a big smile. "This city is known for important Arctic exploration and petroleum research and Memorial is doing great things. I knew right away I wanted to come here to study. But I was a guy with no experience and I needed industry partnerships."
That's where Memorial graduate Carol Bartlett (B.Sc.'01, BA'04) comes in. She graduates this week with her master of science degree.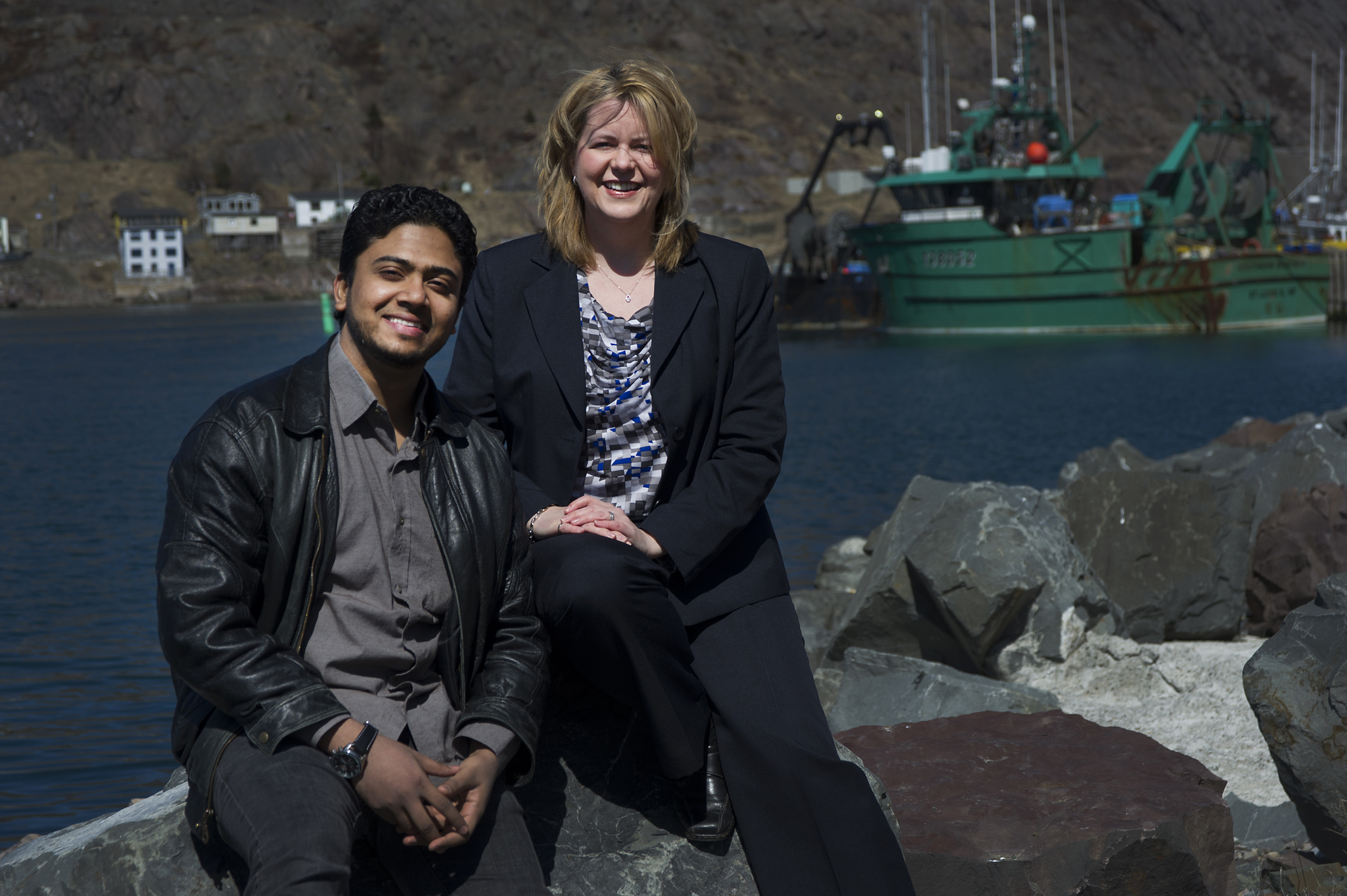 This winter, in conjunction with the Faculty of Engineering and Applied Science, she came up with an idea to help graduate students such as Mr. Mohammed get a footing in a competitive job market.
The end result is her 150 Years Mentorship Program, the first of its kind in the city.
"We want to give these students exposure," said Ms. Bartlett, a professional geoscientist who's worked in the oil and gas industry for more 10 years; five of those managing collaborative industry research projects with Memorial's Genesis Group Inc. Today, she's general manager of McGregor GeoScience and Environmental in St. John's.
"Exposure to leading industry mentors and exposure to learn how to succeed. Memorial and this province are attracting some of the brightest and best students from around the world, educating them to the highest of Canadian standards and some of these students leave because they do not have the connections and business acumen they need. I want to help these students connect, learn and grow. The 150 stands for the cumulative years of experience – both from students and our mentors – we have in the program."
In total, 10 international engineering graduate students – from countries such as Sri Lanka, China, Nigeria, Guam, Turkey and India – were paired with local senior-level business leaders, many of who are Memorial graduates.
Over a three-month period, the students were given first-hand glimpses into the province's business community. They went on tours of facilities, networked with executives and experts and were given plenty of advice on success.
The response was overwhelming, said Ms. Bartlett.
"These students have grown more confident. Many have said they want to stay here in Newfoundland and Labrador and contribute to our economy."
Gaining access to a pool of talented graduates is welcome news for employers and mentors such as David Mitchell, chief operating officer of St. John's-based Pennecon.
"As an employer we are faced with great challenges for recruiting technical staff. This program opens the doors not only for students to employers, but for employers to students," he said. "These students have great abilities and can easily be integrated into our daily business."
Attracting and retaining highly-skilled students to Newfoundland and Labrador will strengthen the provincial workforce, added Dr. Leonard Lye, associate dean (graduate) studies with the Faculty of Engineering and Applied Science. He helped Ms. Bartlett set up the program.
"The mentors clearly conveyed the message that they want the students to stay and they willingly share their experience and their own network to help these students get a head start after they graduate," he said. "As the weeks go by, I've seen that the students are more confident, more proactive and they see a way forward for their future career."
And, that's the case for Mr. Mohammed, who said he's eager to use the skills he has learned during the mentorship program to land a job in the province after graduation.
"I would like to stay in Newfoundland and Labrador," he said. "There is so much energy here. I have learned so much from Carol and the mentors and am thankful for their insight. I definitely would like to be a part of the exciting oil and gas industry."