Dialing 's' for success

By Jeff Green | June 6, 2014
The work of a small group of dedicated students, combined with the generosity of passionate alumni throughout North America, is helping to ensure Memorial students have access to more scholarships, strong programming and better equipment, said education student and arts grad Robert Badcock.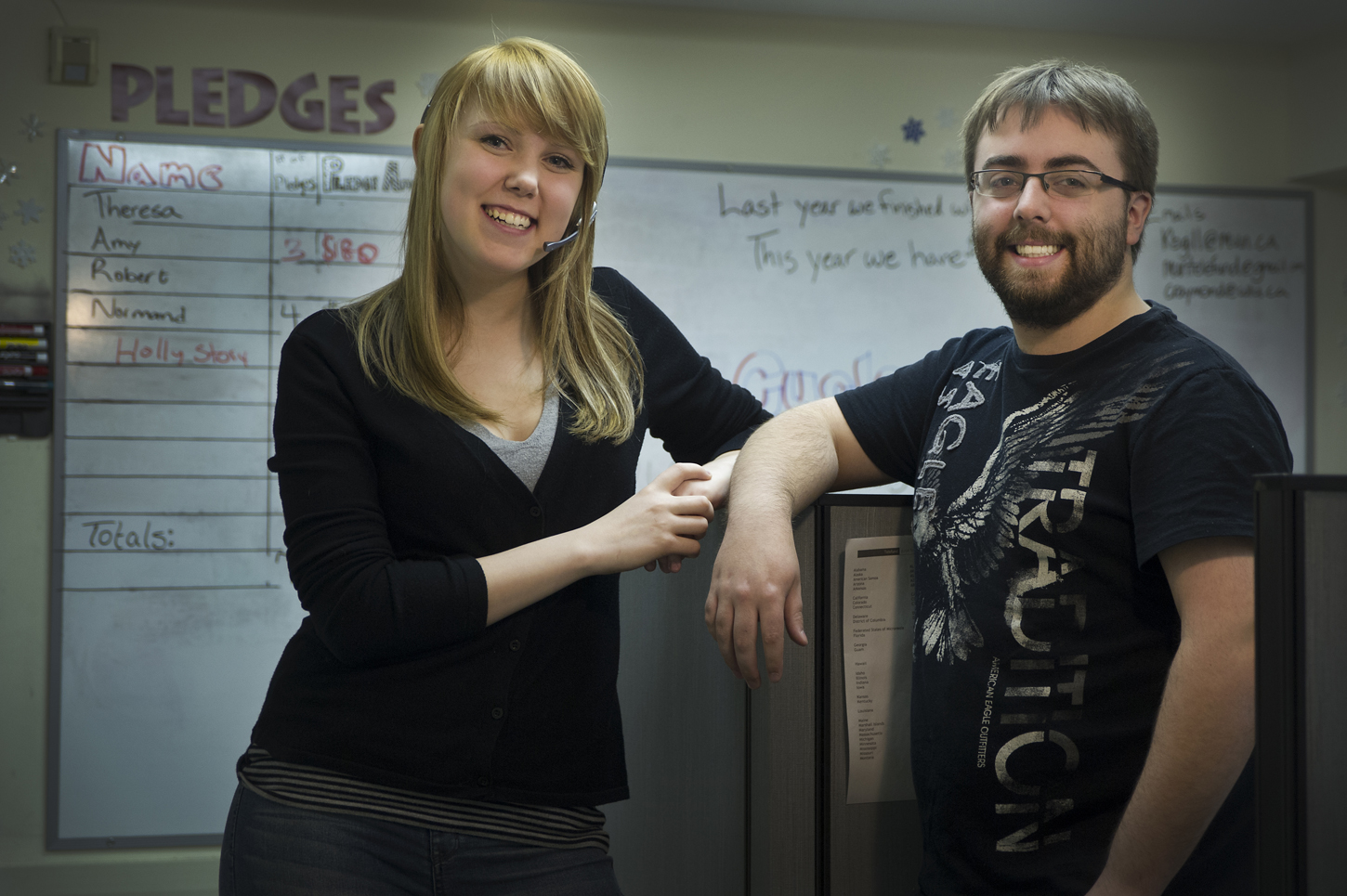 As one of the team leads with the Telefund calling program in Alumni Affairs and Development, Mr. Badcock and his 25 fellow student callers are riding high after a banner year. From September 2013 to May 2014, students secured more than $102,000 in new gifts and pledges from roughly 1,600 alumni.
"I feel really proud of our accomplishment and the overwhelming support from alumni for students," said Mr. Badcock, an employee since September 2010 and team lead for the past two years.
"I believe that we are making a true difference for current and future students."
On average, he and the other students call more than 20,000 alumni and personally speak with roughly 6,000 graduates. Their approach is unique. The students share updates from Memorial, inform grads of benefits and services for alumni and ask them to support students.
For many, these calls are the only personal contact they have with Memorial over the span of a year.
"We're really ambassadors for Memorial," said Mr. Badcock. "Some alumni are quick to share their career experiences and advice about life after graduation. The work we do, and the generosity of those on the other end of the line, contributes to Memorial's overall success."
Commerce (co-op) student Holly Story, a student caller for two years, echoes that sentiment.
"I think we all share a responsibility to ensure students of Memorial have the best education possible," she said. "Those that give truly know the value Memorial has given to their own lives, to Newfoundland and Labrador, and to students."
Graduate Melvin Bursey, (BA, BA(Ed.)'66), who is originally from Caplin Cove, N.L., but now lives in Halifax, N.S., says he's proud to support current and future generations of Memorial students in whatever way possible.
He gives, he says, because of "a strong emotional relationship to Memorial and Newfoundland and Labrador."
"I feel I have a personal obligation and responsibility to ensure these young students can succeed," he said. "I find the people who call – although I don't know them personally – are so uplifting. I'm happy to chat with them and learn what they're studying. There is no pressure to give. I've had a fairly successful career with the federal government and that's due partly to Memorial."
In addition to cultivating strong relationships with alumni and raising funds for their peers, the student callers say they're also gaining valuable work experience, growing professionally and personally.
"This is way more than just a job for me," said Ms. Story. "I have gained so much insight on all the good things that Memorial does for everyone and how a person's relationship to the university should not just stop upon graduation."
"As a student caller you learn the value of working as part of a team, to communicate effectively to a variety of different cultures and to gain a level of confidence that will help you succeed in the future," added Mr. Badcock.
Memorial's Telefund calling program is one component of an overall fundraising program at Memorial that raised over $17 million last year.