If I'd known you were coming, I'd have baked a tape
By Kristine Power | June 16, 2014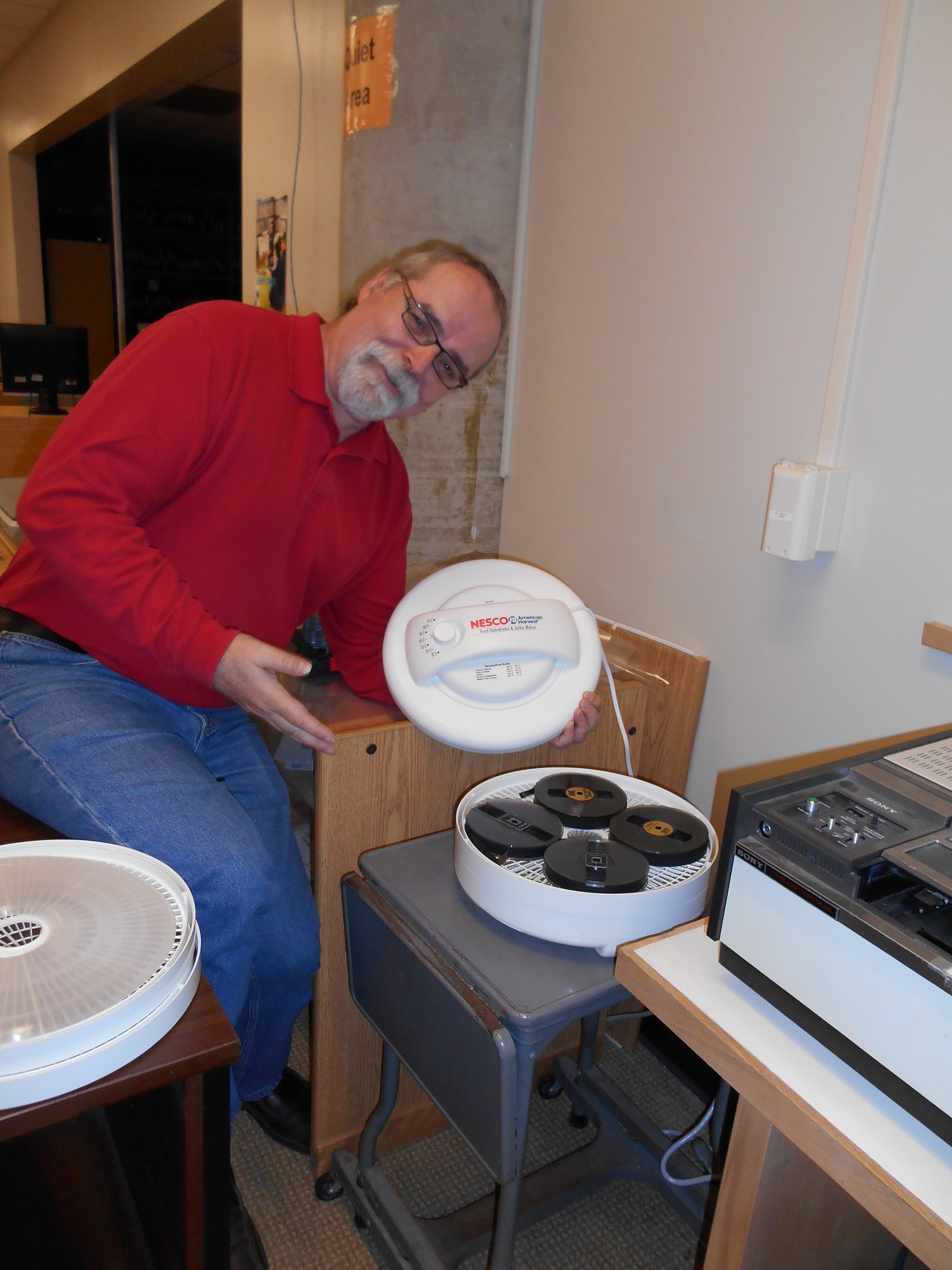 Sticky-shed syndrome is an archivist's nightmare. It happens to video and audio recordings over time when they are stored in damp places like basements or garages.

To be more scientifically accurate, sticky-shed syndrome happens when the magnetic tape deteriorates due to the absorption of moisture and eventually breaks down. The end result is a screeching and squealing tape when you attempt to play it. It can also ruin costly equipment.

Sticky-shed syndrome is exactly what happened to a series of valuable videotapes in the Fred Earle Collection of the Archives and Special Collections Division of the Queen Elizabeth II Library. The extensive collection consists mostly of videos Mr. Earle made in the '60s and '70s while he was a field worker with Memorial University's Extension Services.

The videos capture historical and cultural moments in time of many rural communities around the province during that period.

Insert Don Walsh, a digitization specialist with Memorial University Libraries, to the rescue. Once a sound engineer and music producer with his own recording studio in St. Johns, he was familiar with this phenomenon and remembered a handy old trick of "baking" audio tapes in a box with a light bulb. Not the safest way, he concedes, but it got the job done.

"I remembered back in the old days of baking tapes, so I started to scour the Internet for tape-baking machines and of course all I could find were these massive tape-baking ovens," he said. "There were ads for companies that would bake a tape for $200. Then I came across a site through Google where a guy talked about putting them in a food dehydrator with a thermostat, so it can be set to 130°C and the thing has a fan on top that blows the air down evenly. We decided to try one tape and put it in the food dehydrator. We baked it and took it out once it was done, put it in the tape machine and it ran perfectly.

"First off, we probably saved thousands of dollars on what the tape-baking machine would have cost. But I can't begin to express what we have saved because we were able to restore all those videotapes from the Fred Earle Collection," Mr. Walsh continued. "Those things are priceless and irreplaceable."

There are now over two million digital items in Memorial's Digital Archives Initiative (DAI). It is one of the largest of its kind in Canada. From books and maps to photographs, periodicals, video and audio, the DAI hosts a variety of collections that are free, accessible around the world and showcase Newfoundland and Labrador's history and culture.