Psychology grad student takes people's choice award in national competition
By Kelly Foss | June 16, 2014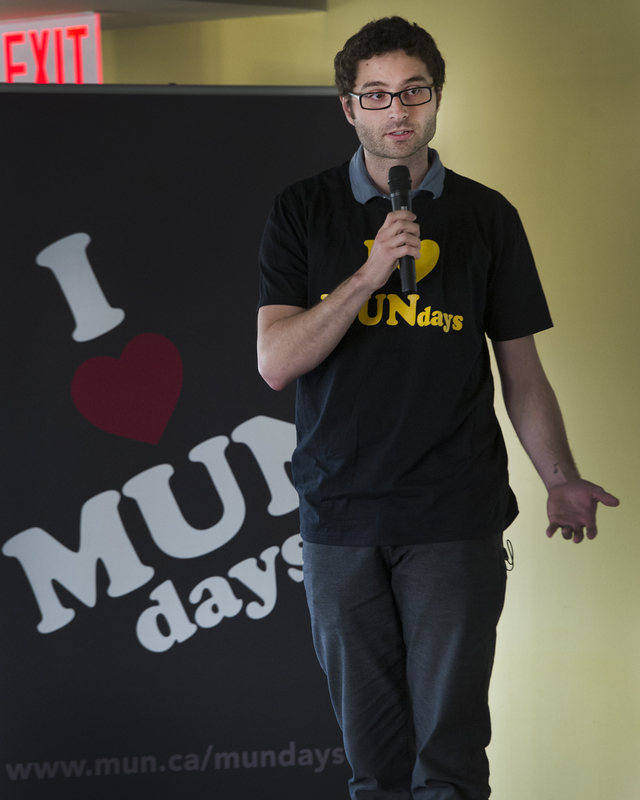 Kirk Luther, a PhD candidate in Memorial's Department of Psychology, has taken home the People's Choice Award from the national Three Minute Thesis (3MT) competition.
Mr. Luther is completing his PhD in the area of forensic psychology, under the supervision of Dr. Brent Snook, associate professor of psychology at Memorial. His presentation, which he also used to win Memorial's contest and the eastern regional competition at Dalhousie University, explored law enforcement investigation best practices for interviewing young children who are witnesses or victims of a crime.
"I'm thrilled to have won the people's choice award for the first national 3MT competition," said Mr. Luther. "My sincere thanks to everyone for taking the time to vote for me in this competition. I really appreciate the immense support that I have received from Memorial and the community throughout the competition."
The 11 finalists were videotaped before live audiences at regional competitions for 36 graduate schools. They were challenged to explain their research and its impact to a general audience in one take, with no props. The videos were then posted online in a virtual competition, with judges Dr. John Polanyi, Nobel laureate; Kady O'Malley, CBC journalist; and Doug Peers, University of Waterloo's dean of arts, choosing the top two presentations.
Joseph Donohue, a biochemical engineering student from Western University, won the top prize for his explanation of advances in a portable technology to treat wastewater, and history student Kyle Massia from Saint Mary's University, came second for his take on political and cultural changes in East Germany after reunification.
The People's Choice Award was a special recognition for the presentation receiving the most online votes from the public.
"The calibre of the submissions showcases the academic rigour and real-world engagement that is so much a part of graduate studies in 2014," said Dr. Noreen Golfman, president of the Canadian Association of Graduate Studies (CAGS), which hosted of the event. "It is important to ask, 'Why does it matter?' The Three-Minute Thesis project helps hone the skills to answer that question."
The 3MT concept originated at the University of Queensland in 2008. It has spread quickly around the world as universities incorporate communications training as part of the graduate school experience. This year's event was Canada's first national comptetition.
In addition to a cash prize of $1,500, the national champion will attend CAGS' annual conference in St. John's in October 2014. The association brings together 58 Canadian universities with graduate programs and the three federal research-granting agencies, as well as other institutions and organizations having an interest in graduate studies.