Class above
By Susan White-MacPherson | June 30, 2014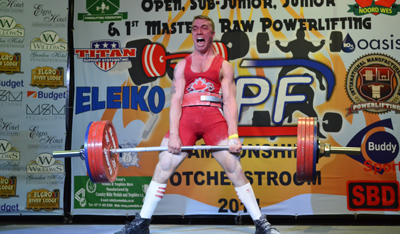 Josh Hancott has returned from South Africa as a world champion.
The 20-year-old bachelor of business administration student broke four world records and won three gold medals and one silver medal at the International Powerlifting Federation's world championships June 4 in Johannesburg, South Africa.
"It feels really good, now that it's finally set in," he said. "I didn't even know how to feel, but now it feels good. I'm happy."
Mr. Hancott competes in the 74-kilogram weight class of the junior category. In powerlifting, athletes vie to lift the most weight in three disciplines: squat, bench press and deadlift. Winners are declared in each discipline and the highest combined score determines the overall winner.
Mr. Hancott won gold in the squat with a world record lift of 552 lbs. He earned silver in the bench press with a lift of 352 lbs., and set a world record of 578 lbs. on his second attempt at the deadlift. On his third attempt, he broke his own world record and earned gold with a lift of 597 lbs. His combined score was 1,502, yet another world record.
"I just trained so hard for it, visualized it so many times, that when it came true, I couldn't stand. I fell to my knees and cried, I was just that happy," he said. "What made me proud was the fact that I was only known as being a squatter before this, and now I'm known as being an all-around athlete."
Mr. Hancott started powerlifting three years ago and competed in his first contest in June of 2011.
"When I first got in it, I just got in for fun. I thought it would be pretty cool," he said. "[But] when I realized I had the potential to win the worlds, I just kicked it in another notch."
Mr. Hancott earned the respect of his competitors during the competition, including being named a hero of Belarus by the Belarussian team, with whom he shared accommodations along with the rest of Team Canada.
"The way that people looked up to me when I was there, it blew my mind. If you look at the simpleness of it – all I do is pick up a weight and someone respects me. That seems foolish to me. But they see the passion and dedication that I put into it."
In the process, he's become a role model for his teammates and competitors as well as those just starting out in the sport.
"[I have] a lot of responsibilities for years to come. Where I'm a role model, I have to try to keep getting people into the sport [and] not let things get to your head. Some people get to the top and then they can't handle the pressure," he said. "I think I'm going to be alright."
Mr. Hancott has two more years of eligibility in the junior category and intends to go for another world championship berth in 2015, where he hopes to claim that missed gold medal in the bench press.
"It's no big deal. I'll get it next year," he said, adding: "I'm hoping to defend my world title next year and for years to come."