A life inspired by sacrifice

By David Penney | July 16, 2014
Dr. Margot Duley's story with Memorial University begins in the trenches and on the battlefields of the First World War.
On Jan. 22, 1915, Cyril Duley, the man who would become her father, answered the call to serve in the Newfoundland Regiment. He was quickly thrust into heavy fighting at Gallipoli where he was company quarter master sergeant. Over the next two years a series of near misses would allow him to survive.
A chance administrative assignment as a newly minted second lieutenant kept him away from the front line on that fateful morning of July 1, 1916, at Beaumont Hamel, but he had the grim task of burying the dead, friends and comrades the next day. Later that fall, in fighting at the French village of Les Boeufs, he sustained multiple gunshot and shrapnel wounds -- one just a half-inch from his heart. Those injuries effectively ended his active service on the front, though he returned to St. John's where he was regimental adjutant, retiring with the rank of captain in June 1919. In recognition of his war service, he was named a member of the Order of the British Empire.
Returning home
Following a return to civilian and business life, Cyril Duley married Florence Pitcher of St. John's in 1941. A few years later they welcomed a daughter, Margot Iris Duley, to their lives.
"I was always aware of my father's service in the Newfoundland Regiment," said Dr. Duley. "I don't ever recall a specific moment of revelation in my life about that. The health problems he suffered throughout his life were a constant reminder because he dealt with pain as a result of the wounds he received and the shrapnel that remained in his body. I was only eight years old when he died in 1952, so you can imagine that a greater understanding of what it all really meant came later for me."
A moment Dr. Duley does credit for revealing the weight of her family history came when she was an undergraduate student at Memorial.
"My freshman year coincided with the opening of the campus on Elizabeth Avenue," she said. "Around that same time I recall seeing the name of my uncle Lionel in the Book of Remembrance that now sits in the foyer of the Arts building. He was my father's youngest brother and was killed just weeks before the end of the war. Of course I knew about him and his story, but that made it very personal. It was around that time in my life that I began to appreciate how deeply the regiment's fate affected the entire social, political and economic history of Newfoundland and Labrador."
Educational path
Upon completion of a bachelor of arts (honours) at Memorial, her next steps would be a master of arts in South Asian history at Duke University in North Carolina and a PhD in South Asian and British imperial history from the School of Oriental and African Studies at the University of London. A successful academic career followed, with appointments to a number of progressively senior administrative roles at universities in the United States. She retired in 2009 as the dean of the College of Liberal Arts and Sciences and professor of history at the University of Illinois at Springfield, a position she held since 2004. Currently, she divides her time between Michigan and Pouch Cove, N.L., writing and doing research. Her current focus is an historical analysis of women and agricultural work in Newfoundland and Labrador and a biography of her aunt, novelist Margaret Duley.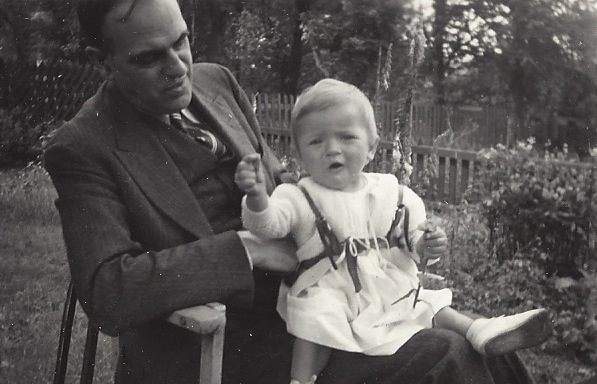 A theme that emerges from a discussion of Dr. Duley's life and work is her sense of duty – which includes embracing opportunity and enabling the success of others. She credits the influence of her family.
"My father carried on his life after the war in a spirit of idealism," she said. "He never let the pain of his injuries slow him down, and believed very strongly in an obligation to improve the country he fought for. Both he and my mother were committed to public service and charitable causes, especially those in the area of economic uplift and child welfare.
"I've designated a gift to Memorial in memory of my parents, to support a scholarship for a student of Innu or Inuit heritage. That reflects my father's interest in Labrador and my own interest in indigenous cultures. I am troubled by the marginalization of those cultures – so this award is about recovering tradition, giving consideration to a young person who wants to make a difference in their community."
Legacy Tea event held annually
Each year a Legacy Tea event is held at Memorial to celebrate and thank individuals like Dr. Duley who have made a planned gift to the university. Earlier this year, Bert Riggs, head, Archives and Special Collections, Queen Elizabeth II Library, gave a special presentation at this event about some of the untold stories of the Newfoundland Regiment. In doing so, he highlighted a number of unique connections with the regiment that exist among this group of donors – one of those being the story of Cyril Duley.
"Margot Duley's connection to this university is quite remarkable," said Mr. Riggs. "This institution is a living memorial to both her father and uncle, one a survivor of the war and the other killed in action. Her aunt Margaret is one of Newfoundland's first great novelists and a Parks Canada historic plaque to her memory is attached right outside the entrance of the QEII library. The university has also been a great resource for her research, in particular for the book she published in the '90s on the history of women's suffrage in Newfoundland and also her more recent work. And she is also engaged as an alumna and a donor to Memorial."
In telling the story of Cyril Duley, Mr. Riggs referenced a letter sent from a French hospital in 1916 while Duley recovered from his wounds. To his friend Captain Hugh Anderson, Duley ends his correspondence by saying, 'I had a pretty narrow squeak another ½ inch & one piece [of shrapnel] would have gone thru the heart instead of stopping between my chest bones – However, a miss is as good as a mile.'
"Those are prophetic words," said Mr. Riggs, "from a man recognized for his outstanding ability and resourcefulness, and one who had served his country well."