Talking to strangers

By Janet Harron | Aug. 8, 2014
A professor of folklore and the organizer of the third annual folklore graduate field school is a believer of experiential learning – and in folklore that means getting out in the community and asking questions.
"Often we get graduate students who don't know anything about folklore – they have done English or history degrees but have never done fieldwork," said Dr. Gerald Pocius. "This approach throws them right into it at the beginning and gives a very good introduction to what we do. It's a solid foundation at the beginning of their program on folklore methodology. It essentially weeds out those who don't want to talk to strangers!"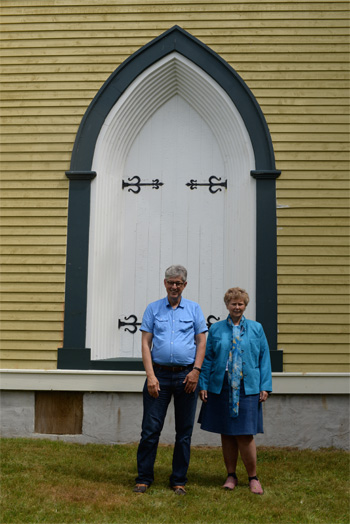 In the fall of 2014, Dr. Pocius's graduate students will spend three weeks in Witless Bay staying at the recently renovated former Holy Trinity convent. Classes will be held in the convent's former chapel. Owned by Memorial alumni and business consultant Colleen Hanrahan, the exterior has now been fully restored. The field school participants will be the first guests in the "new" convent. Ms. Hanrahan hopes the field school will set an example to others of the convent's potential use as an educational/conference facility.
"From 1860 the building was the centre for learning for children who had limited opportunity to access a formal education," she said. "The field school carries on the tradition in the same building constructed to accommodate the Presentation Sisters, a teaching order."
The course will document changing village spaces, focusing both on buildings and landscape and how Witless Bay has been imagined and used over recent generations. Working with longtime residents, students will learn how to conduct interviews, record buildings and describe the places in Witless Bay of both past and present. The field school ends with a community presentation on the project.
The nine participating students include four from Newfoundland and Labrador, two from the U.S, and one each from Iran, the Philippines, and Toronto, Ont. Students will be divided into three teams of three and each will document an individual house. Each of the nine students will be given a smaller building to document on their own, e.g., a stable, fish store or root cellar, and will be expected to interview a resident about a local tradition.
Special guest lecturers will include Dr. Guha Shankar, American Folklife Center at the Library of Congress, and Dale Jarvis, Heritage Foundation of Newfoundland and Labrador, on project planning. Dr. Ed Chappell, the director of architecture and archaeological research at the Colonial Williamsburg Foundation, will lead the week on building documentation.
Dr. Pocius did fieldwork in various Southern Shore communities himself in the 1980s and believes Witless Bay is an ideal location for his third field school. He considers Ms. Hanrahan's property to be the perfect spot for students to immerse themselves in the community on evenings and weekends. There's just a few minor details to work out.
"We still require a bit of furniture to make the units comfortable – so if anyone can lend or donate a bed or a fridge, please give me a shout."
For further information, please contact Dr. Pocius at gpocius@mun.ca or call 709-864-8366.