The house that Elke saved

By Jeff Green | Aug. 26, 2014
Tai Chi, a small one-legged chicken, is the first to greet visitors to Points East, the 124-year-old, yellow- and green-trimmed heritage house a Memorial alumna has given a new lease on life.
Tucked away on a narrow road on the northeast side of Pouch Cove, the charming two-storey is more than just Dr. Elke Dettmer's home – it is also her livelihood.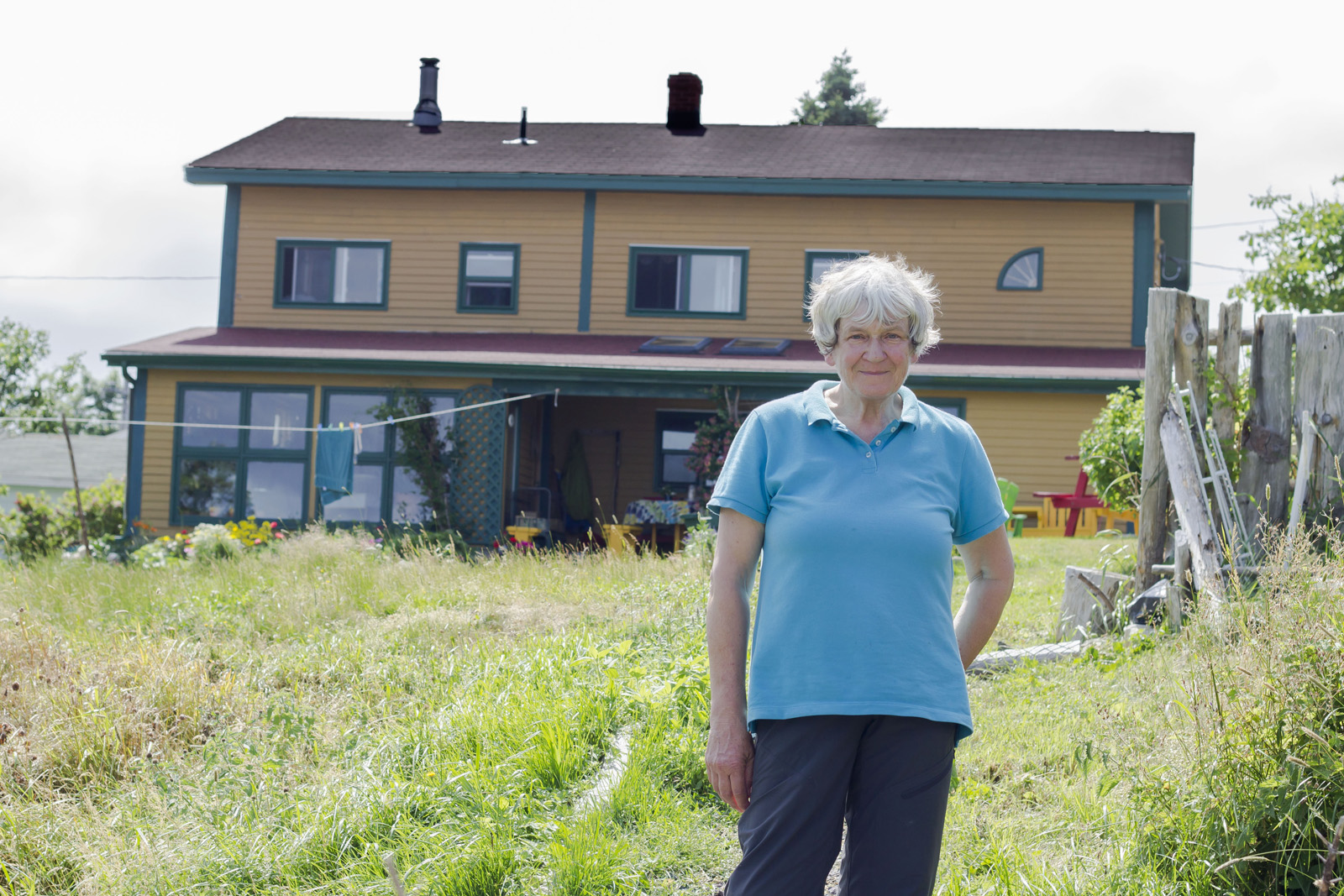 Since the late 1990s, Dr. Dettmer has operated Points East, a year-round guesthouse that's welcomed hundreds of tourists from far-flung areas of the globe.
"Nobody would have saved this place except me," Dr. Dettmer said with a soft smile and a proud glint in her eye. "It took a lot of imagination to salvage this place but I'm happy with it."
Born and raised in Germany, Dr. Dettmer, 70, first came to Newfoundland and Labrador in 1982 to complete her PhD in folklore. She "discovered" Memorial while living and working in San Francisco, Calif., where she graduated with a master's degree in folklore at the nearby University of California, Berkeley. While attending an American Folklore Society conference, she met Dr. David Buchan, a leading folklorist and scholar who worked at Memorial.
"He and a number of other folklorists were raving about Newfoundland so I decided why not? I packed up and moved to St. John's."
'Where I belonged'
That gumption is at the heart of many things Dr. Dettmer takes on with spirited enthusiasm. After her impulse move to Newfoundland and Labrador, she lived in downtown St. John's for several years before stumbling across Points East, a home that – for many – was beyond saving.
"I moved to Pouch Cove in 1989. The house was in bad shape," she explained. "There was no running water. The walls were falling down inside. The floors were buckled. The place was a mess and everybody said I was crazy for wanting to buy it. But I recognized this is where I belong."
During the first few years, she picked away at the house along with the help of some local carpenters, replacing windows and doors, raising the roof and breathing new life into the building. She also saved the barn, cleaned up and re-dug flower and vegetable gardens and re-introduced livestock. Today, she shares the property not only with Tai Chi, but also with other chickens, goats, her dog and a pair of cats.
Finding prosperity
Dr. Dettmer graduated with her PhD from Memorial in 1993 at the height of the provincial cod moratorium. Pouch Cove was not unscathed by the devastating closure of the fishery.
"The moratorium deeply affected me and this area," she explained. "Something similar happened in Germany when I was growing up. My grandparents were involved in the fishery. I saw how the closure affected people and communities. I wanted to contribute to the survival of Newfoundland and this area in some way."
That's when she established the group Community Connections. She began organizing and holding workshops in her home as well as in neighbouring Flatrock and Bauline – communities also affected by the moratorium. The goal was to incite new business ideas in the region.
"We would hold meetings here at Points East," said Dr. Dettmer. "We were successful in Pouch Cove as we started up the newspaper, Oceanside Press, and we also began what now is the East Coast Trail. We first worked as volunteers with Peter Gard, the founding president of the East Coast Trail Association, and eventually, with government grants, employed local people to create the trails, cutting the pathways."
Eco-tourism operator
All the while, Dr. Dettmer was quietly bringing Points East back to life.
By the late 1990s, she turned her attention to eco-tourism and began utilizing the province's rugged beauty and fantastic hiking trails as a catalyst for attracting tourists from around the globe. That's also when she opened her bed and breakfast.
"I saw potential probably because I came from the outside," she said. "I bring in travel writers and tourists who come and stay here at my place and tour the area. I gave talks in Germany about Newfoundland and our untouched spaces and hiking areas. And, I've worked as lecturer on cruise ships encouraging people to visit Newfoundland. My approach has been very grassroots."
That approach has paid off in more ways than one.
Guests from Germany, Switzerland, Mexico, the United States and other parts of Canada have all stayed at Points East. They quickly fall in love with the province's nature and the charm of her historic home, she said.
"I knew it would work," said Dr. Dettmer. "I now have more guests than I can really handle but I managed to keep them fed and give them a place to stay."
Dr. Dettmer is quick to acknowledge that most septuagenarians are settling down, leading quieter live, but she says she's busier than ever. In her off-season this year, she's headed to Guatemala to work as a volunteer with a charitable foundation called Give Kids a Chance. She's also busy planning itineraries for hikers already booked to stay at Points East next year.
"I am very lucky to have found the place where I belong right here in Pouch Cove."