Pam Hall named as inaugural Public Engagement Post-doctoral Fellow

By Cathy Newhook | Sept. 8, 2014
Dr. Pam Hall is most at home among the unique and colourful towns and villages of Newfoundland and Labrador. In fact, they are from where she draws much of her creative inspiration.
The interdisciplinary artist, whose 10-year survey exhibition HouseWork(s) has been on display this summer at The Rooms, has been creatively engaging the province's communities in her art for more than 30 years – making her an ideal candidate for Memorial's first Public Engagement Post-doctoral Fellowship.
The fellowship is a new creation of Memorial'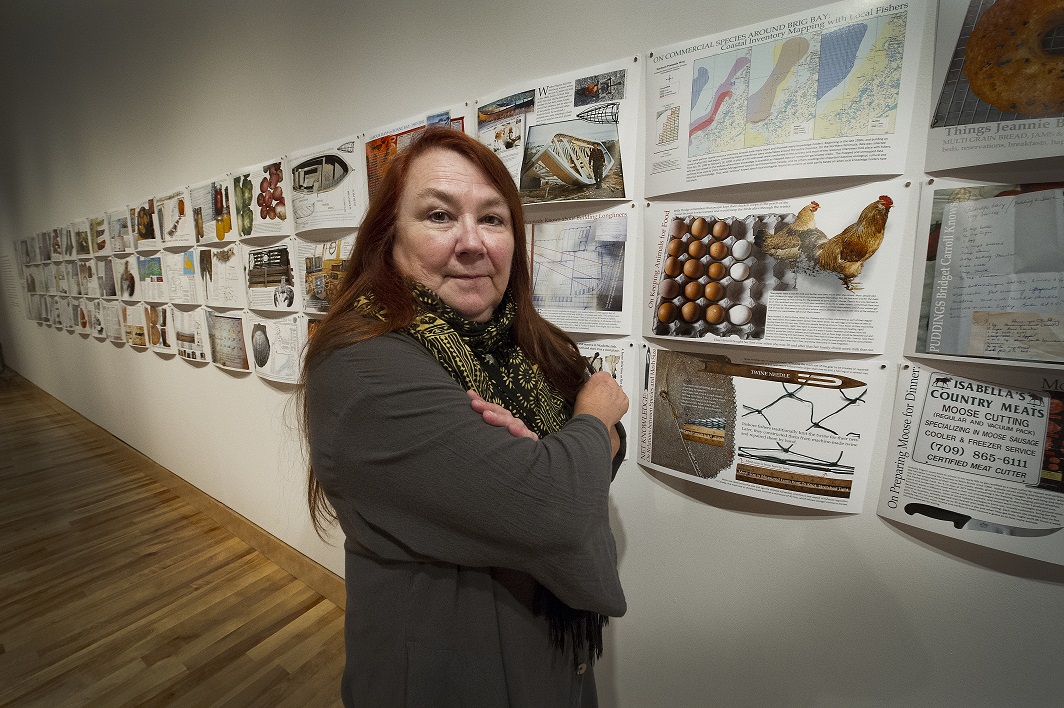 s Office of Public Engagement in partnership with the Faculty of Arts and in association with the Shorefast Foundation. It will provide an opportunity for Dr. Hall, a recent graduate of Memorial's interdisciplinary PhD program, to build public engagement capacity and contribute to research and learning on a topic of mutual interest to the people of Fogo Island and Change Islands, the Shorefast Foundation and the university.
"This is an exciting opportunity for me," said Dr. Hall, who recently completed the first section of her Encyclopedia of Local Knowledge, which focuses on Newfoundland's west coast and includes local knowledge on ecology, fishing, baking, hunting and trapping, gardening, boat-building and local names for places and names of local experts. "This will be the next chapter, literally. I will be able to implement and share the public engagement processes I've developed through my work on the west coast, as well as develop and foster new techniques by looking to the community to help guide my work."
The new fellowship opportunity is about providing another vehicle for community-university collaboration, says Dr. Rob Greenwood, executive director of public engagement at Memorial.
"Through a unique partnership with the Shorefast Foundation, Dr. Hall will be able to work with the people of Fogo Island and Change Islands in true collaboration, where the community helps determine the priorities and brings their own expertise to the table – equal contribution, for equal benefit," he said.
Dr. Lynne Phillips, dean, Faculty of Arts, says Dr. Hall's artistic practice has long reflected engagement with communities and she is therefore a "perfect" choice for the new fellowship.
"Her work is a testament to how the arts can both reflect and change our lives by questioning exclusive understandings of knowledge and by documenting the unique dynamics of a place," she said.
Gordon Slade, chair, Shorefast Foundation, is delighted to welcome Dr. Hall to the community.
"We look forward to a continuing collaboration with Memorial University on a variety of projects," he said. "Community and academic partnerships bring great value and insight to the issues of economic, social and cultural well-being for rural communities."
Dr. Hall will begin her work on Fogo Island and Change Islands this month.
"For me this project is about rethinking how we see knowledge as something produced only by scholars in universities," she said. "We need to challenge that belief and recognize that there are many kinds of knowledge and many diverse knowers in every community, especially those in rural and coastal settings where people work closely in, and with, their local environments. We need more than a single kind of knowledge to build a sustainable future together and hopefully this ongoing project will reveal some of them."