Entering college
By Janet Harron | Sept. 17, 2014
Two Memorial University professors have been elected to the Royal Society of Canada's newly established College of New Scholars, Artists and Scientists, Canada's first national system of multidisciplinary recognition for the emerging generation of Canada's intellectual leadership.
Drs. Sean McGrath and Andrew Staniland are among the very first individuals to be invited to membership in the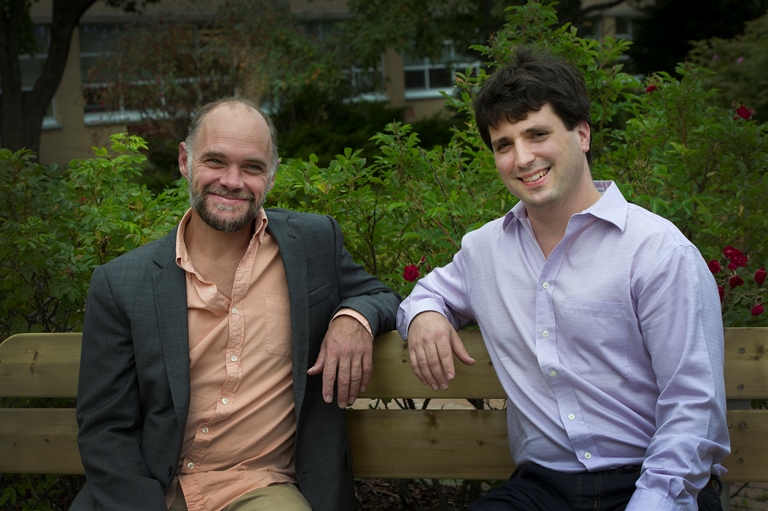 college. Memorial was permitted to nominate four faculty members with a maximum of two permitted to be selected, according to the Royal Society of Canada.
"The election of Dr. Staniland and Dr. McGrath into the College of New Scholars, Artists and Scientists is undoubtedly one of the highest honours a young scholar can receive," said Dr. Richard Marceau, vice-president (research). "Both are highly esteemed and accomplished individuals in their own right. This election confirms the importance of their contributions and their growing importance in their respective fields. It also contributes to the growth of Memorial's own reputation for which we are grateful."
Dr. Sean McGrath is an associate professor in the Department of Philosophy, Faculty of Arts. His work encompasses the research fields of cultural studies, philosophy of religion, history of ideas and continental philosophy. His ability to bring his knowledge of the history of philosophy to bear on contemporary ways of thinking and to non-specialists is exemplary. A three-time Humbolt fellow, Dr. McGrath's current project looks at the relation of religion to secular society. He serves as the co-chair of the North American Schelling Society and as a member of the executive committee of the Canadian Society for Continental Philosophy and received the President's Award for Outstanding Research in 2012.
Dr. Andrew Staniland is an assistant professor in the School of Music. He is an award-winning composer whose original output includes orchestral and chamber works, chamber opera and songs for solo voice, and electroacoustic and mixed media works. Winner of multiple awards, Dr. Staniland has been called "one of the most important musicians in Canada" by senior composer Gary Kulesha. He is one of the few composers worldwide who successfully combines the traditional art of musical composition with the digital media of the 21st century.
The college's mandate is "to gather scholars, artists and scientists at a highly productive stage of their careers into a single collegium where new advances in understanding will emerge from the interaction of diverse intellectual, cultural and social perspectives."
Drs. McGrath and Staniland, along with their inaugural cohorts, will be welcomed to the college at the Royal Society of Canada's annual general meeting in Ottawa, Ont., this November.