'Dearing' to make a difference

By Jeff Green | Oct. 3, 2014
For Justin Dearing, it's his calling; the perfect fit that fuses his passion for the oceans with youth engagement and education.
That's how the Memorial grad sums up his latest career move – one that's taken him from the eastern edge of North America to exhilarating ocean adventures to the northern and southernmost tips of the globe. In February 2014, he was recruited to be the new manager of education and alumni programs with Students on Ice (SOI), a national organization that leads educational expeditions to the Arctic and Antarctic for international youth. Eight months in, he's embraced his new role.
"I am so thankful for all that this new experience has taught me so far," he said during a conversation from his new home in Chelsea, Que., where he lives with his wife and young son. "The chance to sail in both Polar Regions with youth from around the world and be absolutely immersed in optimism and hope for our collective future is beyond my ability to convey. I've been awakened in a whole new way, as if all over again, to just how beautiful our world is."


Hooked on the ocean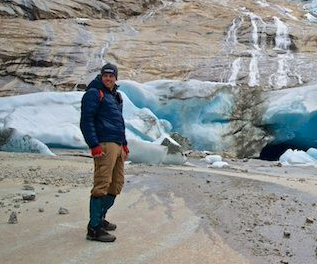 You'd never guess it, but Mr. Dearing wasn't always hooked on the ocean. Admittedly, his interest didn't ignite until a decade ago.
"Growing up, I didn't hear much about ocean conservation, environmental protection, climate change, sustainability or youth engagement," said Mr. Dearing, who was born in B.C. and spent the bulk of his formative years jumping between Grand Falls-Windsor, N.L., New Brunswick, Ontario and eventually back to Newfoundland and Labrador and St. John's.
In 2005, after completing his undergrad degree in biology, he landed a job as a green team leader with Conservation Corps Newfoundland and Labrador, a local group that provides youth with training and employment in environmental and cultural heritage conservation.
"I tried my hand at raising public awareness of climate change and leading a team of youth trying to make a difference in our community."
He was hooked.
He immersed himself in oceans and environmental advocacy, working with people such as his "mentor," Robert O'Brien, the founder of Ocean Net, a grassroots group that was committed to the conservation of provincial marine environments.
That work fuelled Mr. Dearing's passion to protect the oceans and led him back to Memorial where he completed the Integrated Coastal and Ocean Management graduate program at the Marine Institute. He did some consulting work in rural parts of the province before crossing paths again with Mr. O'Brien in 2006.
"He told me that he saw something in me and wanted to give me the chance to see what kind of difference I could make," noted Mr. Dearing. He joined Ocean Net as its provincial director.

Motivating young minds
When the group closed up operations in the fall of 2009, the Marine Institute – an avid supporter of the organization – created MI Ocean Net. Mr. Dearing was hired as its conference coordinator, overseeing the group's ocean stewardship program and working with province-wide volunteer network.
He flourished in the role, motivating youth and community volunteers to active roles in the sustainable management of the ocean environment. He was named 2013's Individual Environmental Award recipient at the provincial Environment Awards. The Multi-Materials Stewardship Board also named him a waste reduction hero in 2011.
"Our Friends of Beaches Network saw numbers of clean-ups conducted each year rise to more than 100 with annual clean-up totals surpassing 20,000 pounds of debris!" he noted. "As I travelled to communities, schools, and coastlines in Newfoundland I could see and feel the overwhelming demand, province-wide, for youth to realize their potential to contribute to something that awakened their passions."


'Life changing' experience
His time with MI Ocean Net also re-affirmed his passion for ocean-related advocacy. Last year, he attended a pair of SOI expeditions – one to the Arctic, making stops in Greenland and Nunavut, and one to Antarctica.
"The experience was just as life changing for me as it was for the students," he said. "I saw just how much I could contribute to developing leadership in people in the pivotal early stages of their lives. I saw my work in a whole new light."
It's also when he learned SOI was hiring a manager of education and alumni programs. "The fit was perfect – a calling," he explained. "It was a chance to develop the ocean and leadership learning environment as well as supporting the network of alumni who, after expedition, need support and guidance as they take on their passions and dreams."
Since then he's walked through the snow of the Antarctic Peninsula and listened to Inuit elders share stories and life experiences. Though he is no longer based in Newfoundland and Labrador, Mr. Dearing is ardent about the important role oceans play in everybody's future – no matter where they are on the globe.
"Our province's heart and soul and future are tied to the ocean," he said. "The need to develop a strong awareness, connection, and drive to manage the challenges and opportunities it holds, is what fuels my passion for our oceans."