National honours for Memorial University researchers
By Krista Davidson | Nov. 3, 2014
Memorial University researchers received two of five national research awards presented today, one of them regarded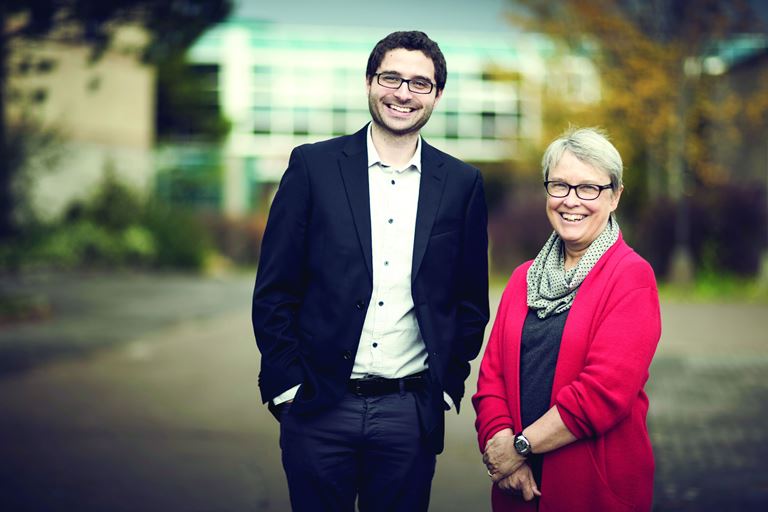 as the highest honour a researcher can receive in the social sciences and humanities.
Ethnomusicologist Beverley Diamond was presented with the 2014 Gold Medal of the Social Sciences and Humanities Research Council of Canada (SSHRC). The award recognizes Dr. Diamond's contributions to the social, cultural, economic and intellectual life of Canadians through her research. The Gold Medal, valued at $100,000, is the highest award one can receive from SSHRC, the national research funding body for the social sciences and humanities.
A second major national award went to Kirk Luther, a PhD candidate in Memorial's Faculty of Science. Mr. Luther was awarded the 2014 SSHRC Talent Award for his research on human behaviour within the criminal justice system. The Talent Award is valued at $50,000.
Both researchers were honoured on Nov. 3 at the SSHRC Impact Awards ceremony in Ottawa, Ont.
Dr. Beverley Diamond wins Gold Medal
Dr. Diamond, the SSHRC Gold Medal recipient, is a faculty member in Memorial's School of Music and Faculty of Arts. Part of SSHRC's Impact Awards program, the Gold Medal is presented annually to an individual whose sustained leadership, dedication and originality of thought have inspired students and colleagues alike, and will provide an opportunity to enrich Canadian society.
Dr. Diamond's body of research is extensive; she has explored a variety of topics ranging from issues of cultural diversity and indigenous modernity, to the development of cross-cultural perspectives on gendered and technologically mediated musical practices, and the exploration of music as a means of both defining and decolonizing the intercultural relationships and music as a medium for addressing rights and social change.
She holds the Canada Research Chair in Ethnomusicology at Memorial University. She is also a fellow of the Pierre Elliot Trudeau Foundation and the Royal Society of Canada, nationally respected peer-nominated organizations comprising the most talented and accomplished scholars and experts in Canada.
Dr. Diamond intends to use the award to continue the dialogue on the importance of arts-related research to enrich the lives of Canadians, and to demonstrate the continuing inequity of Aboriginal communities.
"My presentations and publications on contemporary indigenous music are motivated by my desire to see settlers give more respectful attention to this remarkable realm of creative activity," said Dr. Diamond. "In this way, I hope to enrich Canadian society and enhance respect for cultural diversity within and beyond our borders.
"This amazing award will enable a broader public discussion of how indigenous arts speak to the important issues of our time," she added.
"This is a significant personal and professional accomplishment that speaks to the high quality and significant impact of Dr. Beverley Diamond's scholarly body of work," said Dr. Gary Kachanoski, president and vice-chancellor, Memorial University.
"I am delighted to congratulate Dr. Diamond on behalf of the entire university community and thank her for her contribution. Her research will have a lasting impact on Canadians and the social, economic and cultural issues that pervade our world."
Kirk Luther wins Talent Award
Kirk Luther, the recipient of the 2014 SSHRC Talent Award, is a student in the psychology PhD program of Memorial's Faculty of Science. His work focuses on improving policing practices and protecting the human rights of vulnerable youth in Canada. The Talent Award recognizes outstanding achievement by an individual holding a SSHRC doctoral or post-doctoral fellowship or scholarship and who has a talent for research, knowledge mobilization and a clear potential to be a future leader within and/or outside the academic sector.
Mr. Luther is an emerging talent in the academic community with proven skills in social justice and knowledge mobilization. He received the People's Choice Award in the national 2013 Three-Minute Thesis competition and first place in the eastern regional Three-Minute Thesis competition, as well as the 2013 SSHRC Storytellers Award.
"I have worked very hard over the past number of years to conduct meaningful research that could lead to positive changes within the criminal justice system," said Mr. Luther. "A large part of ensuring that positive change happens is effective knowledge mobilization – that is, sharing my research findings with policy-makers and practitioners and calling for action.
"Receiving the SSHRC Talent award is invaluable in ensuring that I can effectively share my research findings and it enables me to continue working toward my goal of improving the criminal justice system."
"Kirk Luther exemplifies what it means to be a rising academic star – he is a committed advocate for the social justice of youth and dedicated to improving the understanding of our criminal legal system," said Dr. Ray Gosine, vice-president (research), pro tempore, Memorial University.
About SSHRC Impact Awards
SSHRC Impact Awards are designed to build on and sustain Canada's research-based knowledge culture in the social sciences and humanities. The awards recognize outstanding researchers and celebrate their achievements in research, research training, knowledge mobilization and outreach activities funded partially or completely by SSHRC. For more information about SSHRC or the Impact Awards, go to www.sshrc-crsh.gc.ca.