Grenfell celebrates 40 years of printmaking in the province
By Melanie Callahan | Jan. 16, 2015
An upcoming reception will celebrate the 40th anniversary of St. Michael's Printshop and its important connection to Grenfell Campus and Memorial University as a whole.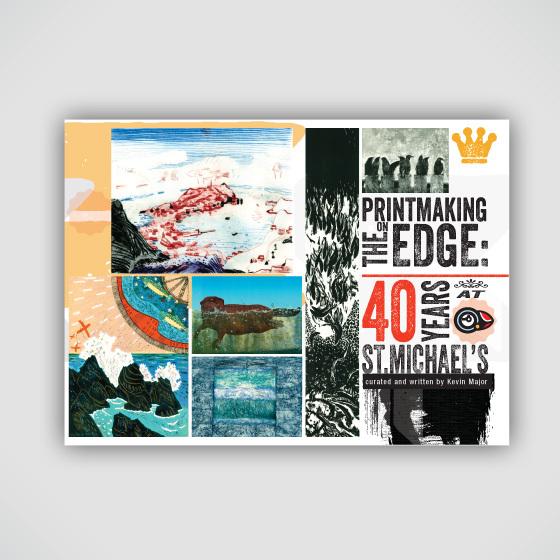 St. Michael's Printshop has a long, established relationship with the university, beginning when artists Don Wright and Heidi Oberheide had the idea of creating a professional printshop in 1974 and Memorial came on board as a partner.
In 1967 Mr. Wright moved to Newfoundland to work as an art specialist with the Memorial's Extension Services. He conducted art classes for children and adults, both on the St. John's campus and in communities throughout the province. In 1969 he developed a summer art program for school students that ran for many years. Following that, he conducted summer classes from his studio in Port Kirwin. Mr. Wright's instruction provided an important bridge for young artists between their graduation from high school and acceptance into an art college.
Since 1991, recent visual arts graduates have had the opportunity to avail of a professional printmaking scholarship at St. Michael's Printshop.
The printshop, located in downtown St. John's since 1985, is one of the few artist-run print studios left in Canada.
To celebrate this significant milestone, a new coffee table book titled Printmaking on the Edge: 40 Years at St. Michael's has been published. The book is curated by author and art enthusiast Dr. Kevin Major, an accomplished Memorial graduate and honorary degree recipient.
The book traces the studio's progression and helps to illustrate St. Michael's integral role in the province's arts community over the years. More than 120 pages feature images of artwork made at the printshop by such acclaimed individuals as Anne Meredith Barry, Frank LaPointe, Christopher Pratt, Mary Pratt, Bill Ritchie and many more.
Memorial University President Gary Kachanoski contributed a foreword for the book, where he states the histories of Memorial University and St. Michael's Printshop are "entwined" and have continued throughout the years.
Printmaking on the Edge: 40 Years at St. Michael's was launched at the Christina Parker Gallery in December, and will be celebrated at the Grenfell Campus Art Gallery Friday, Jan. 23, at 4:30 p.m. The event will include a talk by the Dr. Major. Members of the public are invited to attend.