Half a million raised to replace 'work horse' pianos
By Jeff Green | Feb. 4, 2015
A half a million dollars later, the bulk of the pianos in the School of Music have been replaced or refurbished thanks in large part to private donors.
A reception and special concert with world-renowned pianist Angela Cheng was held on Fri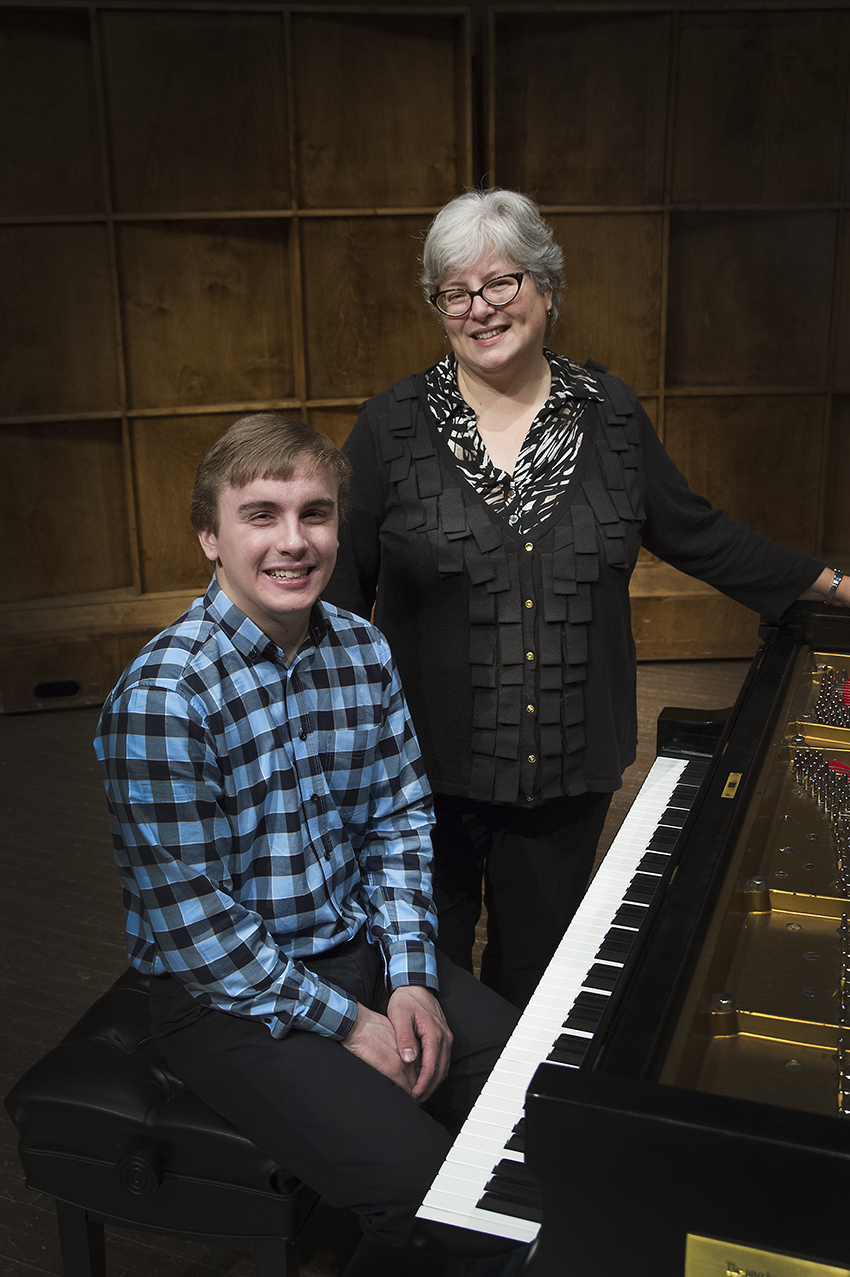 day, Jan. 23, in the D.F. Cook Recital Hall in the School of Music to officially mark the end of the Keys to Success fundraising campaign, which ran from 2011-14.
The goal was to replace the school's "work horse," pianos in its practice rooms, faculty studios and classrooms. The youngest of those instruments was 20 years old while the oldest was over 70.
"Many of these pianos could best be described as played out," said Dr. Ellen Waterman, dean, School of Music. "Some were in pretty good shape – and we rebuilt those – but most simply couldn't stand up to the constant use that our School of Music pianos receive."
Alumni, friends and the university contributed to the matching campaign over the three-year period. Close to $170,000 was raised in private donations.
Dr. Waterman described the campaign as "crucial," for current students and faculty as well as the community groups that use the pianos throughout the year.
"The School of Music is both a full-time educational institution and a community resource for countless groups," she pointed out. "Suzuki, Rotary, Kiwanis, various choirs, Newfoundland Symphony Orchestra, Newfoundland Youth Symphony, Opera on the Avalon – the list goes on and on. The new pianos will provide a rich resource for the community for many years to come."
Fourth-year music student Timothy Brennan said the new instruments have already made a difference in his music studies. The St. John's native, who is completing a piano performance major with a minor in composition and is graduating this spring, said having access to the high-quality pianos has allowed him to hone his technique.
"This is essential for developing pianists and students," he said. "Unlike other music majors who practise and perform on their own personal instruments, piano majors are dependent on the School of Music to provide quality instruments for them to use."
Alumnus Chad Stride, local musician and founder and director of the award-winning group Cantus Vocum Chamber Choir, said he jumped at the chance to give back to the campaign, as well as volunteer to recruit financial support.
"The decision to support was obvious," he said enthusiastically. "The former pianos had long since passed their best-before date. Just as a science student cannot advance ideas without a lab nor can a musician develop their skills without a piano."
Dr. Waterman said plans are already underway to maintain the pianos for future generations.
"We are very lucky to have such a loyal and supportive community of donors," she added. "They thoroughly understand the value of an excellent music education and they share our passion for musical performance."