Triple threat
By Whitney O'Byrne | March 13, 2015
Fourth-year Sea-Hawk basketball forward Noel Moffatt is the 2014-15 recipient of the Canadian Interuniversity Sport (CIS) Ken Shields award for outstanding student-athlete.
The award is bestowed upon the men's basketball student-athlete who best exhibits outstanding achievements in the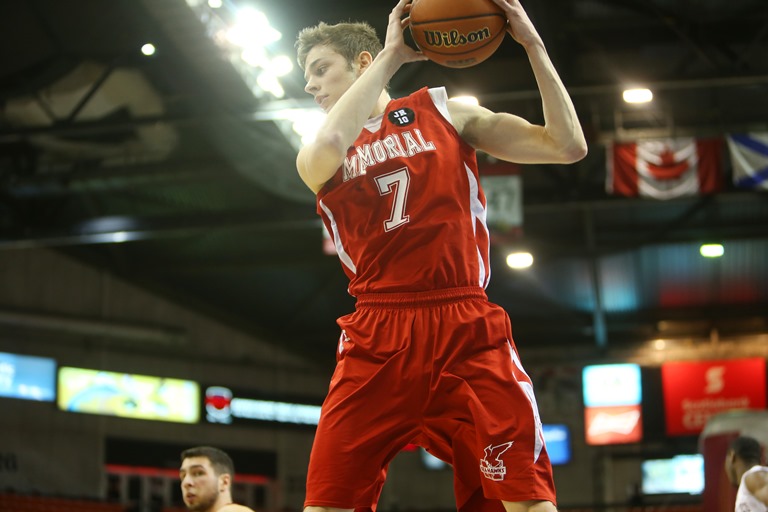 areas of basketball, academics and community service and is named for one of the most successful coaches in the history of Canadian university basketball.
"I feel very honoured and humbled to have won this national award," said Mr. Moffatt from Toronto, Ont., where he travelled to accept the award on March 11. "I have received more benefit from playing varsity basketball than I think I will ever be able to give back, and I have my teammates and coach Peter Benoite to thank for that. We have been through a lot this year and they have always been there to support me."
In addition to the national accolade, Mr. Moffatt was also recognized with the Atlantic University Sport Student-Athlete Community Service award last month.
In his fourth year of eligibility, the St. John's native contributed to every Sea-Hawks game of the season, starting all but one. The 6-foot-5 forward averaged 9.6 points per game and a league-best 154 defensive rebounds.
A 2013-14 CIS Academic All-Canadian student-athlete, Mr. Moffatt is currently working on obtaining his bachelor of commerce degree while maintaining a grade point average of 3.8. He is also a member of the Faculty of Business Administration's Dean's List.
In addition to his athletic accomplishments, Mr. Moffat is also a burgeoning entrepreneur with a social conscience. He co-founded Athlete Aid Apparel, a clothing brand that provides consumers with athletic apparel while donating 10 per cent of sales to Kidsport N.L., an organization that enables local children who face financial challenges to access sport programs. It is for this initiative that Mr. Moffatt was recently bestowed with another distinction: the Enactus Newfoundland and Labrador 2015 Student Entrepreneur Provincial Champion title.
"It's nice to be recognized for an individual award such as this, but I believe Athlete Aid Apparel's success is more of a reflection of what my co-founder Robert Hickman and I have been able to accomplish as a team," Mr. Moffatt said when asked about the recognition.
The business student is also generous with his time. He has volunteered with NeuroFit, a community-based exercise program for people with neurological disabilities who are trying to become active again. He is an active assistant coach for St. Bonaventure's high school girls' basketball team, and referees a local elementary school's annual tournament.
In addition, Mr. Moffatt has volunteered as a member of the Sea-Hawks program with a number of initiatives including the Terry Fox run and basketball spring leagues and clinics in St. John's and rural Newfoundland and Labrador.
"Noel has been a fantastic contributor to our basketball program and is a great example of the student-athlete," said Peter Benoite, Sea-Hawks basketball head coach. "He is an Academic All-Canadian, and has improved his game to the level to where he is one of the best rebounders in the league. He is also a leader when it comes to volunteering activities, and his commitment to the community through his athletic clothing brand speaks to his philanthropy."
This marks the second time Memorial University has been the recipient of the Ken Shields award; Justin Halleran was honoured during the 2006-07 season.