Graduate student named finalist in national Storytellers challenge
By Krista Davidson | April 7, 2015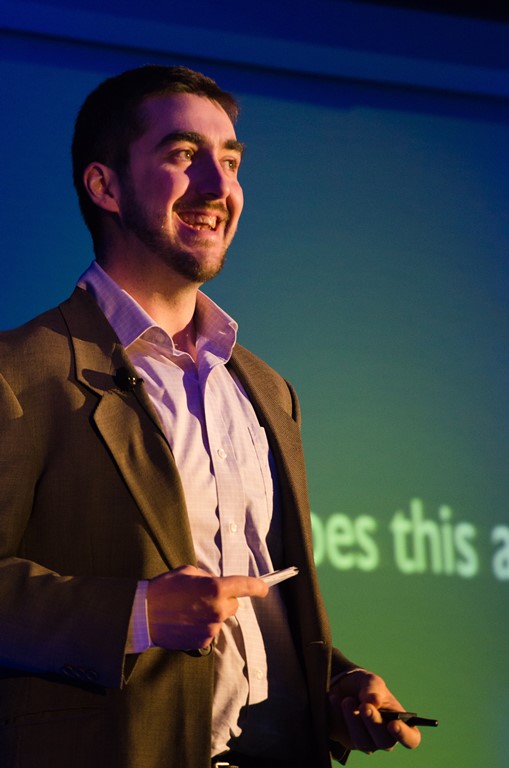 A master's student in Memorial's Faculty of Arts has been named a finalist in the 2015 Storytellers national challenge.
Joshua Smee is a graduate student in the Department of Political Science. He is originally from Kitchener, Ont.
The annual competition, which is hosted by the Social Sciences and Humanities Research Council of Canada (SSHRC), challenges postsecondary students from across the country to demonstrate – in up to three minutes or 300 words – how SSHRC-funded research is making a difference in the lives of Canadians.
Mr. Smee's submission, titled Your Community's Influence On Your Life, addresses how our neighbourhoods shape our lives. His video, which can be viewed here, looks at the relationships between social networks, civic engagement and the built environment (architecture, street design, aesthetics) around where we live.
"The project is called Building Connections, and it's aimed at a fairly simple question: Does the built environment around us affect how we interact with other people?" said Mr. Smee. "More specifically I'm interested in "social capital" – the resources we all gain access to from having social networks and participating in civic life. Are there kinds of neighbourhoods that strengthen social capital in the people who live there?"
Mr. Smee's research involves a two-part survey aimed at random participants in various public spaces in St. John's. He uses a short questionnaire to measure how much social capital participants have and then uses the information to look up participants' neighbourhoods on Google Street View to take note of the characteristics of that particular built environment. His research will include the compilation of hundreds of responses to help investigate which parts of the environment are related to more or less social capital.
"We have a lot of ideas about how planning decisions affect community life, but they're not often put to the test," Mr. Smee said. "This will be the first Canadian data set that does so, and I'm hoping that something can be built and expanded upon.
"On behalf of Memorial University, I offer Joshua congratulations on becoming a finalist for this award," said Dr. Gary Kachanoski, president and vice-chancellor, Memorial University. "This is a remarkable opportunity for post-secondary students to demonstrate innovation and creativity in their research, and in Joshua's case, to highlight the remarkable talent we have at Memorial. I offer him all the best as he competes in the Storytellers Showcase."
Mr. Smee is one of 25 finalists selected from nearly 250 entries by some 30 expert judges from Canada and abroad. He also received the Joseph Armand Bombardier Canada Graduate Student Scholarship – Master's Program from SSHRC for his research in 2014.
"Joshua is an emerging talent whose research will no doubt have real implications for the people of our province and beyond," said Dr. Richard Marceau, vice-president (research), Memorial University. "I would like to congratulate Joshua and wish him much success in his future research endeavours."
Each finalist receives a cash prize and will go on to compete in the Storytellers Showcase at the 2015 Congress of the Humanities and Social Sciences, which takes place May 30-June 5 at the University of Ottawa.
SSHRC will feature five finalists on its website and social media channels each week beginning April 14.
This is not the first time a Memorial University student has been recognized in the SSHRC Storytellers challenge. In 2013 Faculty of Science and Department of Psychology student Kirk Luther was named one of the top five final winners of the first Storytellers challenge.