Business researcher nabs NSERC grant for hazmat research
By Kate Scarth | June 29, 2015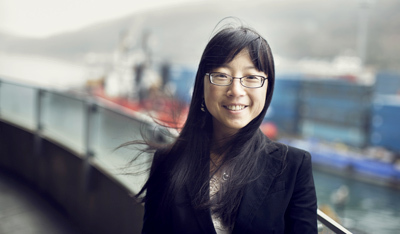 The Lac-Mégantic train derailment in 2013 captured the world's attention, highlighting the substantial risks to people, property and the environment of shipping hazardous materials (hazmat).
Dr. Ginger Ke, an assistant professor in operations management in the Faculty of Business Administration, has won a prestigious NSERC Discovery Grant to develop ways of reducing these risks.
The grant will fund her project, Transportation of Hazardous Materials: Management, Co-ordination, and Optimization, which aims, as Dr. Ke explains, "to discover applicable and operative approaches to mitigating the risks associated with hazmat transportation."
NSERC is the National Sciences and Engineering Research Council of Canada, a federal funding agency that promotes and supports research and fosters innovation.
Dr. Ke's approach is highly practical: drawing on principles from game theory, big data and mathematical optimization, she will develop models that hazmat stakeholders can implement. These models will help regulatory authorities to reduce risk and hazmat carriers to reduce costs.
The business professor says her project contributes broadly to the available research by extending scholarly conversations and offering real-world solutions. Due to the potential for significant environmental impact should an incident occur when transporting hazmat, the topic has "experienced tremendous academic engagements over the past few decades. In spite of previous efforts devoted to hazmat transportation, much can still be done to reduce potential risks," she says.
Dr. Ke will focus on three key streams of study. The project, first of all, emphasizes the leader-follower dynamic between government and hazmat carriers, whereby the government makes a move (such as installing tolls at a particular point in the transportation network) and the hazmat carrier reacts (avoiding the toll by taking an alternate route). Both parties thus achieve their goals: the government keeps the carrier out of a particularly risky area and the carrier avoids any increase in overhead.
Secondly, the already precarious transportation of hazmat can be impacted by extreme weather conditions, traffic accidents and terrorist attacks. Dr. Ke will therefore create a support system that enables hazmat stakeholders to navigate such real-time events.
Dr. Ke says "uncertainties exist everywhere" and so the third stream of her study will develop frameworks for coping with the unpredictable aspects of transporting hazmat such as congestion at transportation hubs and fluctuating population exposure.
More specifically, Dr. Ke says "the anticipated significance of the work can be described in three points: providing an analytical framework and managerial insights to relevant stakeholders; assisting the authorities to derive practical and effective policies on mitigating the hazmat risk; and developing adaptable decision support systems based on the paradigm of big data that can evaluate the stability and flexibility of existing systems, and ingest dynamic environmental conditions in real time to react in ways that benefit the carriers and customers."
A taste of Dr. Ke's work on this topic is available in her article, co-authored with Drs. Manish Verma and Ghazal Assadipour, Planning and managing intermodal transportation of hazardous materials with capacity selection and congestion, published in Transportation Research Part E: Logistics and Transportation Review (April 2015).
Dr. Assadipour recently earned a PhD in management at Memorial and is currently a lecturer of operations management in the faculty.
Dr. Verma is an associate professor with DeGroote School of Business at McMaster University. His research focuses on multimodal transportation of dangerous goods and transport network design.