Student success: Military to MBA
By Susan White | Oct. 19, 2015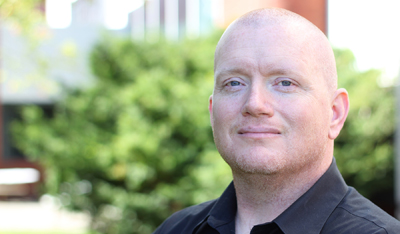 Part of a special feature celebrating student success during fall convocation. You can join the celebration by following @MemorialU on Twitter, MemorialUniversity on Instagram and liking the Memorial University of Newfoundland page on Facebook. Well wishes will be projected in the Arts and Culture Centre prior to each ceremony and can also be seen at www.today.mun.ca.
Memorial's business programs are helping a former member of the military transition into civilian life.
Jason Dicks, originally from Burin but now living in St. John's, spent 18 years in the Canadian Armed Forces, first as an Infantry soldier and then as a plumbing and heating technician. When he expressed interest in becoming a logistics officer, he learned that he needed a business degree so he was posted to St. John's to do a bachelor of business administration (BBA).
Soon after finishing his BBA in 2013, he was medically released from the military due to recurring injuries and decided to pursue a master of business administration (MBA).
"The MBA program was great. It was just what I needed to help me with that transition from military life to civilian life. I felt like a fish out of water because you go from one environment where everybody's around you in uniform, you have a certain structure, a certain team you're with constantly. And all of a sudden to no longer be with that … I struggled with a lot of depression and anxiety."
To help combat the depression, Mr. Dicks got involved with the MBA Students Association, eventually becoming president.
"The interaction, just being around other students and trying to be involved helps overall with the transition. It gave me that confidence to move on with the next part of my life."
Mr. Dicks now works as a junior recruiter for Eastern Health and has recently become a coach with Beachbody. He continues to have an interest in human resources management and hopes to continue his post-military career with Eastern Health.
"Once the opportunity presented itself, I jumped at it."
Mr. Dicks will receive his MBA at convocation on Friday, Oct. 23, during the 3 p.m. session.