Alumnus aims to have an impact on patients and doctors-in-training
By Jeff Green | Nov. 20, 2015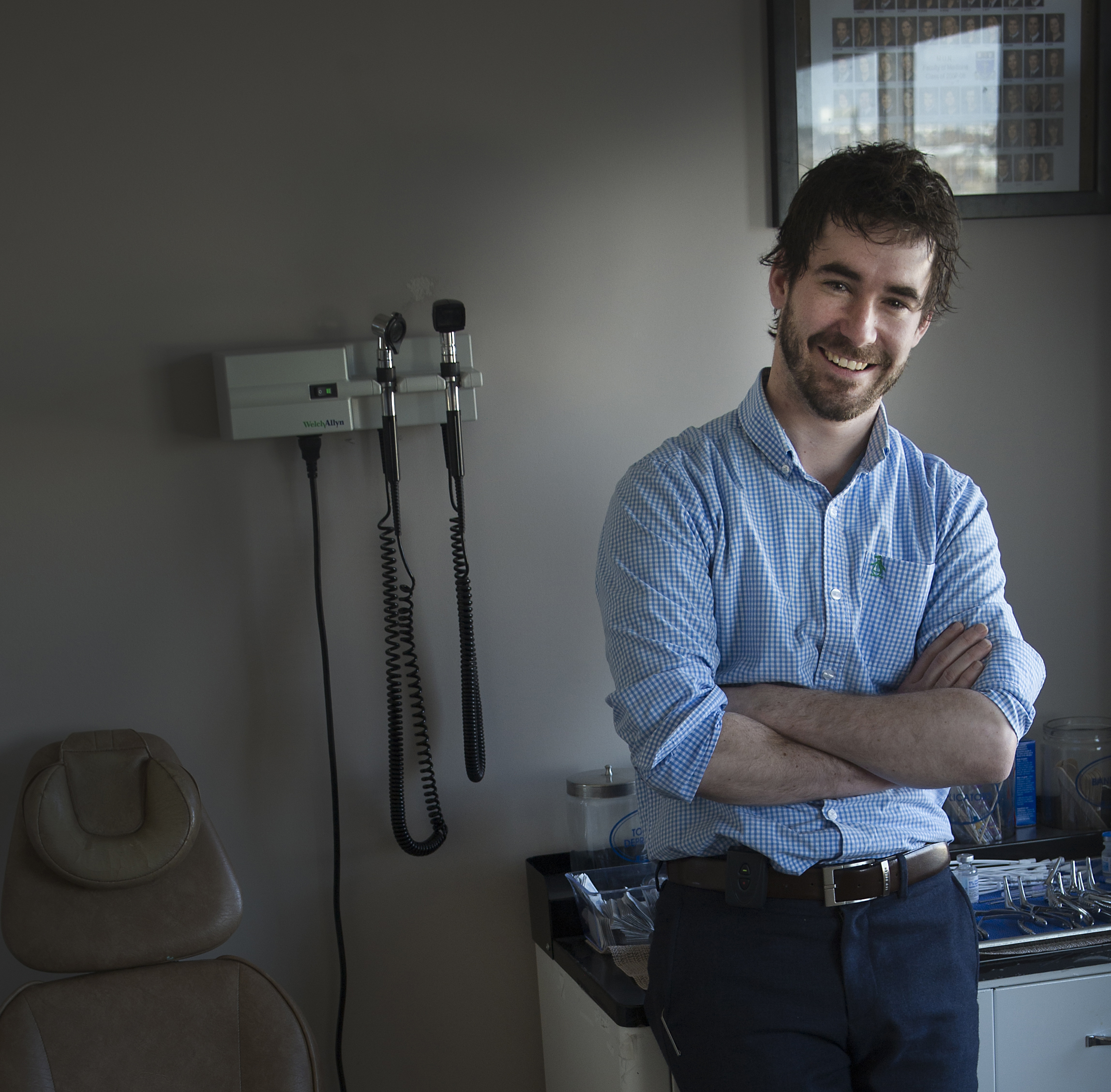 As a kid growing up in St. John's, N.L., Dr. Doug Angel always knew he wanted to be a doctor.
Now, the Memorial alumnus — who recently set up practice in the capital city — hopes to have a positive impact on young physicians-in-training.
"I had to see an eye surgeon when I was probably eight or nine years old and I remember telling my parents, 'That's it, I'm going to be doctor,'" he said with a proud grin. "I was always fascinated with surgery shows on TV and thought I'd end up in medicine."
A 2008 graduate of the Faculty of Medicine, Dr. Angel recently set up practice in his hometown as an otolaryngologist — a head and neck surgeon with Eastern Health.
He specializes in ear, nose and throat (ENT) surgery, head and neck oncologic surgery, thyroid and parathyroid surgery, skin cancer and microvascular reconstructive surgery of the head and neck.
"For me, Memorial offered an exceptional medical program," said Dr. Angel, who also holds a music degree (honours) in piano performance from Memorial. His dad is also a graduate of the Faculty of Medicine and practises psychiatry in St. John's.
"From an academic standpoint, the medical training you receive here exceeds some of the top places in the country," added Dr. Angel. "The faculty are with you 100 per cent of the way and they definitely helped shape the physician I am today."
He says he embraced medical school to its fullest and was active with student leadership, charity fundraisers, the faculty choir and clinical advisory committees. He was also honoured academically, receiving several scholarships and bursaries; made the dean's list multiple times; and was recipient of the prestigious University Gold Medal for Academic Excellence in Medicine.
Finances aside, he says, the accolades pushed him to aim higher.
"As a medical student and resident, you're always striving to be on the top of your game. I firmly believe that the scholarships and awards help make you want to be a better student, trainee and physician," he said.
After graduation, Dr. Angel moved to London, Ont., where he completed his residency in otolaryngology – head and neck surgery at Western University along with a one-year fellowship in head and neck oncologic surgery and microvascular reconstructive surgery. He moved back east in 2014.
In addition to running a busy office practice, Dr. Angel is in the operating room twice a week, sees patients at the Dr. H. Bliss Murphy Cancer Centre, lectures in the Faculty of Medicine, mentors student clerks and is the undergraduate medical director for students doing ENT electives.
"I'm loving it," he says of his hectic life and practice. "I especially enjoy undergraduate medical education. That's one thing I've always remembered about Memorial's medical school — the exceptional faculty. Good teachers and mentors can really make a positive impact on young physicians-in-training and I'm really hoping I can make a difference in the lives of the students I work with."