New research suggests benefits of eating during labour
By Elizabeth Furey | Dec. 17, 2015
Researchers from the Faculty of Medicine recently presented findings at a conference that suggest most women can skip fasting and would actually benefit from eating a light meal during labour.
The team is comprised of Dr. Michael Bautista, associate professor of anesthesiology; Dr. Andrew Major, assistant professor of anesthesiology; medical students Erin Sproul and Chris Harty; and librarian Alison Farrell. They attended the recent 2015 American Society of Anesthesiologists annual meeting in San Diego, Calif., where their findings about eating during labour were met with significant interest.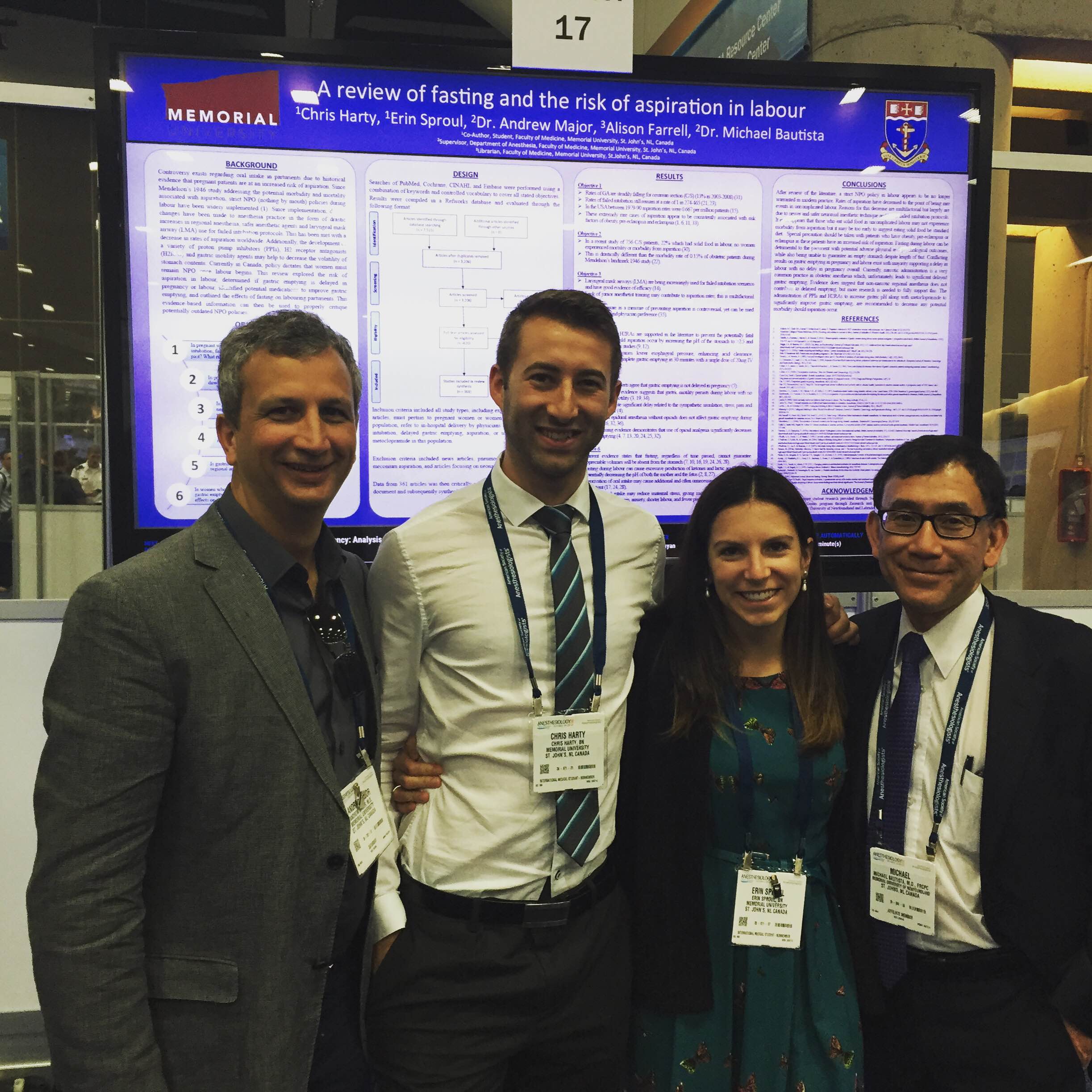 Traditionally, pregnant women have been instructed to avoid eating or drinking during labour as they could potentially inhale foods or liquids into their lungs during an emergency general aesthetic, which can cause pneumonia. Research conducted by the team, however, states that the risk of this is greatly lowered.
"Things have changed over the last number of years and, through improved anaesthesia, we now believe that most healthy women are highly unlikely to have the problem of potential aspiration today, and in fact, the benefits of eating in labour would be better nutrition for the mother and baby," Dr. Bautista said.
According to the research, labour and delivery is like running a marathon. Receiving calories from intravenous fluids that contain dextrose can induce hypoglycemia in the newborn, so they are not used. Mothers develop the metabolic pattern of someone who is starving, yet running a marathon, so oral calories like high carbohydrate drinks are best when trying to preserve energy levels.
Solid foods are also a potential option, says Dr. Bautista, one which provides more "variety and comfort."
"For women in the latent phase of labour who can remain that way for hours, or even days, fasting from solid food is extremely challenging, nutritionally and psychologically. Women do eventually lose their appetite in labour, and so it is natural for them to want to eat early in labour, but not when it is well established."
Dr. Bautista hopes this research will stimulate re-evaluation of the current Canadian practices when it comes to eating during labour.
In the meantime, what sort of food could pregnant women potentially consume?
"Our project goals didn't specifically look at which foods could be eaten, but suggestions have been toast or bread, biscuits and yogurt. We haven't reviewed the literature thoroughly enough to comment precisely on the exact type of food, but we don't think pizza or fried chicken would make the list."