Revamped and re-designed: Memorial journal turns 20 years old
By Jeff Green | December 30, 2005
One of this province's most respected academic journals has a new name, a new look and is about to begin the process of digitizing its entire collection of articles and book reviews just as it celebrates its 20th anniversary.
The former Newfoundland Studies is now officially Newfoundland and Labrador Studies and has revamped its look to include a beautifully-designed glossy colour cover. The new cover design is eye-catching and provides information about each edition's contents.
Dr. James Hiller, University Research Professor, history, and editor of Newfoundland and Labrador Studies, said the name change and new design were a logical move for the journal.
"We've changed the title to reflect the name of the province, obviously," he said. "But it also reflects the fact that we would like to include more Labrador material and that we want to send a signal that we welcome submissions about Labrador. As for the look, there was a feeling in the editorial committee that we needed a re-design so that if somebody finds a copy in a bookstore they can read the table of contents on the back."
Newfoundland and Labrador Studies' roots date back to 1985. Its mandate is to publish original essays, in either English or French, about the society and culture of this province, past and present. Its first editor was Dr. Patrick O'Flaherty, professor emeritus (English). Other editors have included retired English professors Dick Buehler and Dr. William Kirwin, a professor emeritus, as well as current faculty member, Mary Dalton.
The current issue is devoted to archaeological work at Port au Choix, a national historic site on this province's west coast. It was guest edited by Dr. Trevor Bell, an associate professor in Memorial's Department of Geography, and Dr. Priscilla Renouf, professor and Canada Research Chair in the Archaeology Unit. The issue's subtitle is "Humans on the Landscape: Interdisciplinary Studies at Port au Choix." Contributors from Memorial University, as well as the University of Maine at Farmington; University of Western Ontario; and Langara College are featured in the journal.
Dr. Hiller said the idea of devoting an entire issue to Port au Choix has been talked about for some years. "Most of our editions are general, which means they'll have essays about a variety of topics, but this is one that has been in the works for some time," he said. "But we do have special topic issues from time-to-time. We have published one on Newfoundland in the 18th century, for instance, and we are planning on more in the future."
Dr. Hiller said he hopes the journal will appeal to a general audience. He admitted some articles maybe more specialized than others but said the editors try to choose articles which will appeal to a range of readers. "Although we aren't aiming for the mass market, we certainly try to produce issues which are interesting, and we have quite a number of subscribers who are not academics but are interested in items about Newfoundland and Labrador," he explained.
The journal's editorial committee is now making plans to launch all of its contents - including current and back issues - on its Web site www.mun.ca/nls/
"Generally speaking, we are doing what is being done throughout academic publishing in North America," said Dr. Ronald Rompkey, chair of the journal's editorial committee and University Research Professor, English.
"Most academic journals are going digital, with the added option of paper copies, since it seems to make more sense for researchers and makes it easier for libraries, who are rapidly getting out of the periodicals business."
The Fall 2005 issue of Newfoundland and Labrador Studies is well underway and should be out by late January or early February. Dr. Hiller also has started assembling articles and book reviews for the Spring 2006 issue. Meanwhile, a small reception is being planned for the end of January to mark the journal's 20th anniversary.
"I hope people enjoy our latest issue, and that the journal will still be around 20 years from now," Dr. Hiller said.
Snapshot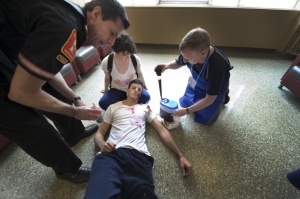 Role play