Traditions in Transition
By Pamela Gill | June 26, 2006
The Sir Wilfred Grenfell College Art Gallery is pleased to present Traditions in Transition: Contemporary Hooked Rugs of Newfoundland and Labrador, accompanied by an opening reception on June 29 and a day of presentations and demonstrations on June 30.
The exhibition, which runs June 29 to August 19, 2006, is curated by Gloria Hickey and features a collection of more than 30 works by 21 women artists who have been inspired by the hooked rugs of Newfoundland and Labrador.
The exhibiting artists are Wanita Bates, Sheila Coultas, Janet Davis, Laurie Dempster, Andrea Ennis, Frances Ennis, Maxine Ennis, Margaret Forsey, Niki T Hollohan from, Kathleen Knowling, Christine Koch, Catherine McCausland, Libby Moore, Carolyn Morgan, Shawn O'Hagan, Heather Reeves, Trine Schioldan, Anita Singh, Susan Stephen, Elizabeth Dillon Tucker and Molly White.
"The hooked rug is a cultural icon in Newfoundland and Labrador," said Ms. Hickey. "Usually made from recycled cloth rags and brin or burlap from food sacks, it represents the outport woman's ingenuity and perseverance in the face of the harsh circumstances of poverty and climate. Hooked rugs provided warmth, colour and personality, turning a bare floor into home. In the hands of today's textile artists, the hooked rug is no longer functional but is a potent metaphor with many overlapping meanings. It allows artists in this province to reflect on where they have come from and what are their aesthetic possibilities today."
The work of Janet Davis of Wesleyville, for instance, focuses on the traditional use of fish flakes.
"We have reached an era where most school-aged children, and even their parents, are no longer familiar with traditional fish flakes and the sights and smells which accompanied them," said Ms. Davis of her mat titled Clifford's Education Fund. "While working on this mat, I have felt the similarities of the lives of my female ancestors as compared to my own. Back breaking at times, long hours of physical labour on the flakes while having to continue on with daily chores: the house cleaning, preparing meals, and caring for children. Although I am sure that my life is one of leisure in comparison to the tasks that my grandmothers tackled each and every day, I feel a sisterhood with them in the work load that is expected of women in general, with the number of roles we are required to fill…This expectation has been carried with us women for many generations, and does not seem to be dying out in our modern lives."
Carolyn Morgan of St. John's wanted to explore the application of contemporary materials to the traditional process of rug making.
"My rug, titled A Possible Peace, is made from household electrical wires, hooked and twisted into a perforated steel base," said Ms. Morgan. "The combination of steel and electrical wire represents our modern technological society. The theme for my rug relates to one of the biggest challenges of the 21st century - peace and understanding among the peoples of the world. Computers and cell phones have given us an unprecedented technical ability to communicate globally and yet, we don't seem to be able to accomplish understanding. In the design of my rug, four triangles of copper and white plastic coated electrical wire symbolize the peoples of the world and their willingness to come together to create peace. The black background wires acknowledge the difficulties that must be overcome before peace can be achieved. The metal filament threads represent illumination. The design itself is formal and uses traditional shapes often reflected in the flags designating the countries of the world."
Corner Brook artist Shawn O'Hagan's contribution is Meditations, a group of 16 mandalas, each beginning with a central red dot, and moving outwards in a variety of circular patterns. Ms. O'Hagan said she favours rug hooking because it allows her to indulge her appetite for colour and pattern without the pretense of the "high art" world.
"Although I have an extensive art background as a painter, for the past five years I have been working almost exclusively with textiles," said Ms. O'Hagan. "My most recent work has been mat hooking. In these pieces I apply all my knowledge and experience as a painter to my use of colour and design. Added to this is my love of texture and the physical pleasure I get from the process. I love its portability and accessibility. I love its connection with the past."
Frances Ennis' contribution is actually the work of two mother-daughter teams - Maxine and Andrea Ennis, and Frances Ennis and Sheila Coultas. Titled Sleepy Cove, the 60" x 90" wall hanging in mixed medium comprises 80 per cent primitive rug hooking and 20 per cent oil painting. With the exception of one ball of chenille yarn, the materials were recycled - mostly pure wool and a variety of specialty yarns and fabrics and in all more than 150 different colors and textures.
"Sleepy Cove was a popular fishing area just outside St. John's harbour," said Ms. Ennis. "The harvesting of those and nearby grounds was part of our family's economic and social realities for close to a century. In the process of creating this rug we felt very connected to our mothers and grandmothers - through the content chosen, the materials used, and in working together."
The public is invited to attend an opening reception at the gallery in honour of the artists on June 29, 7-9 p.m. Ms. Hickey will present a curator's tour the exhibition at 7:30 p.m., and Corner Brook cellist Heather Tuach will perform selections from the Bach cello suites at 8 p.m.
On June 30, the public is invited to participate in a day of presentations and demonstrations with the Traditions in Transition curator and artists. Titled Not My Grandmother's Mat, the sessions will run from 9:30 a.m. to 3:45 p.m. in FA224, the fine arts lecture theatre, as well as in the Fine Arts Building Atrium.
In the morning guest curator Gloria Hickey and exhibiting artists Catherine McCausland, Heather Reeves and Carolyn Morgan will give presentations. In the afternoon, the atrium will come alive with hooked rug demonstrations and displays. Enjoy coffee and refreshments as you explore traditional and non-traditional hooked rug techniques with the exhibiting artists. The event will wrap up at 3 p.m. with coffee and a panel discussion moderated by Gloria Hickey.
Accommodations are available for those who wish to attend from outside the immediate Corner Brook area. For information on accommodations at Grenfell College, please contact Stephanie Field @ 709-637-6200, extension 6448 and mention the Art Gallery. The gallery has booked a block of chalet apartments for Traditions in Transition events.
"Heritage, feminism, multi-media, three-dimensional, texture-rich and colour laden," concluded Hickey, "the hooked rug in Newfoundland and Labrador has been given a new life by these artists. Unlike its functional cousins, the hooked rug as an art form shows no signs of being worn out and discarded."
For more information, contact Gail Tuttle, director, Sir Wilfred Grenfell College Art Gallery, (709) 637-6209, or email gtuttle@swgc.ca.
Not My Grandmother's Mat - agenda
9:30 a.m. Coffee; meet and greet (Fine Arts Atrium)
10 a.m.-12 p.m. Presentations (Fine Arts Lecture Theatre, FA224)
Gloria Hickey (guest curator)
Catherine McCausland
Heather Reeves
Carolyn Morgan
12 p.m. Lunch break
1:15 to 3 p.m. Demonstrations (Fine Arts Atrium)
3 p.m. Coffee
3:15 to 3:45 p.m. Panel discussion moderated by Gloria Hickey
3:45 p.m. Adjournment
Snapshot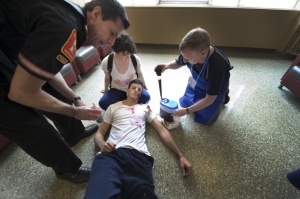 Role Play