Arts student a winner
By Janet Harron | April 2, 2009
Thanks to a contest co-sponsored by the Office of Alumni Affairs and the Department of Student Services, Melissa Long will soon be jetting off to an academic conference in Ottawa.
The contest offered three tickets to anywhere Westjet flies to undergraduate and graduates from any faculty or school. The purpose of the travel had to be for academic reasons, to attend a conference or an extracurricular activity such as an athletic event or a student organization. Students were asked to submit a 100 word essay on where and why they wished to travel and the winning essays were picked through a random draw.
Ms. Long, who is pursuing a double major in Folklore and Religious Studies, will be completing her degree this semester and is committed to pursuing an academic career. However, like many students, money is a major issue.
She has been attending classes at Memorial part-time while working full-time, and "scrimping and saving" in order to attend the Folklore Association Society of Canada conference. The conference is also being held concurrently with the Social Sciences and Humanities Research Council's annual Congress, which Melissa will also attend.
"I felt it was important to attend this conference. It will provide an excellent means to network with other Folklorists as well as others from the Humanities and Social Sciences, hopefully aiding me in my decisions to further my education," said Ms. Long about her submission.
Originally from Paradise, Ms. Long will be presenting a paper at the conference titled A Family Legacy: The Exploration of a 1920s Journal which details her introduction to folklore as a teenager through reading a journal written by her great grandfather.
"Westjet and MUN Alumni and the sheer fluke of winning has certainly reduced my financial stress and will now make this conference a much more enjoyable experience. Thanks Westjet and MUN!"
Snapshot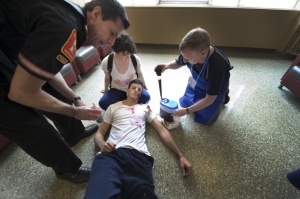 Role Play