Science researchers contribute to climate change research
By Kelly Foss | April 23, 2012
The Faculty of Science's research contributions to the 2012 International Polar Year conference program has added valuable information to our understanding of climate change impacts on land, sea and air.

Biologist Luise Hermanutz was involved in two land-based International Polar Year (IPY) projects. The first, titled Present Processes, Past Changes and Spatiotemporal Dynamics, or IPY-PPSA, was international in scope and studied treeline change across the globe. Dr. Hermanutz's lab provided data from the Mealy Mountains of Labrador along with Drs. John Jacobs, Paul Marino, Trevor Bell and Alvin Simms.

"The Mealys are a very different system from the one in western Canada and previously all of this type of work had been done in the west," said Dr. Hermanutz. "Not much was known about how vegetation and treeline are going to change in the east where the coastal dynamic is different."

PhD student Andrew Trant and a number of M.Sc. students examined how the shrubline and treeline are changing, and postdoctoral fellow Dr. Xiongbing Jin is integrating biological, climatological and geographic information system data collected into a meaningful model of treeline change in coastal Labrador.

The lab's second project, Climate Change Impacts on Canadian Arctic Tundra (IPY-CiCAT), studied tundra change in Northern Labrador, specifically the Torngat Mountains. Companion projects involved monitoring tundra vegetation, berry biology and shrubline change.

PhD student Laura Siegwart Collier got involved through an ArcticNet partner project.

"We are looking at observations of change by Inuit elders from eight different communities across Nunavut, Nunavik and Nunatsiavut to determine the relationships between geographically close communities in terms of climate change with respect to berries, vegetation, seasons, animals and climate," said Ms. Siegwart Collier.

Most of the funding allocated through IPY went towards covering the cost of conducting fieldwork in Labrador.

Dr. Richard Rivkin, a University Research Professor at the Ocean Sciences Centre, has had two major ship-based programs funded by IPY.

One, the Canadian Surface Ocean Lower Atmosphere (SOLAS) project, deals with understanding how exchanges between the atmosphere and ocean influences ocean biogeochemistry and controls fluxes of climate-active properties.

"The ocean transfers elements, gasses, heat and momentum between the two medium," said Dr. Rivkin. "All of this has an influence on climate and on biology."

His group investigated the microbial food web and how it was influenced by ocean related processes, and how changes in ice cover resulting from climate changes would influence the microbial dynamics and carbon cycling.

The second project, Canadian Geotraces, characterized the elemental transformation of major trace elements and isotopes from the surface down to a depth of 4,000 metres.

"There was very little known about the biological processes which occur below the first couple of hundred metres of the surface in the polar regions," explained Dr. Rivkin. "What's interesting, and indeed unique is we were able to characterize the biological and trace metal interactions in up to seven different layers of water. Once you have a robust physical hydrographic framework you can understand the distribution of these organisms and some of the very fundamental questions about functionality in these environments."

Laura McFarlane Tranquilla, a PhD student of cognitive and behavioural ecology, works with Dr. Bill Montevecchi, University Research Professor, to study seabirds as indicators of changing Arctic climate.

Their IPY project involved analyzing tracking data of closely-related high Arctic thick-billed murres and low Arctic common murres from seven breeding colonies ranging from Prince Leopold Island to Witless Bay.

The bulk of the IPY funding paid for geolocators, which Memorial University and Canadian Wildlife Service scientists attached to the birds during their breeding season at each of the colonies. The devices determine a bird's location using levels of light and timing of sunset and sunrise to give a position.

"The geolocators indicate where the birds are during winter in the open ocean where previous knowledge was very limited," said Ms. McFarlane Tranquilla. "The loggers archive the information and since the birds return to the same nesting site year after year, we return the following year to catch the murres and remove the geolocators from their legs."

The devices have provided novel information on where the birds go in the open ocean during winter. The analysis phase is continuing, and Ms. McFarlane Tranquilla will compare the colonies for differences between the two species and between the two sexes in terms of departure from colonies, migration timing and wintering area.
Snapshot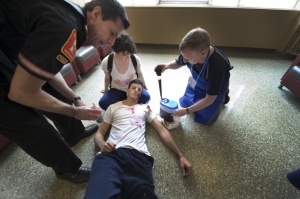 Role Play