Sundaes for Reunion 2012 volunteers
By Marcia Porter | June 15, 2012
All faculty, staff, retirees and alumni are invited to drop by The Landing in the University Centre on the St. John's campus from 10 a.m.-12 p.m. this Tuesday, June 19, to sign up as volunteers at Memorial's first-ever, all-campus, all-classes reunion.
Chat with reunion organizers and enjoy an ice cream sundae! With more than 70 events scheduled to take place Aug. 8-12 across three of Memorial's campuses, havin' a time: Reunion 2012 is a chance to lend a hand, show off your Memorial pride and be connected to something the whole university is engaged in.
"I feel passionate about this place and I think a lot of people feel the same way," said Lisa Russell, who is experiential learning manager within the Department of Career Development and Experiential Learning. She's also chair of the reunion's volunteer committee. "Volunteering to help at the reunion is a great way to get involved, have fun and do something different from the everyday!"
Ms. Russell said that this summer's reunion has been in the works for the past two years. Its genesis was the hugely successful Memorial on Parade event that happened two summers ago and brought together about 500 graduates from the original Memorial University College campus on Parade Street in St. John's.
Reunion organizers welcome your involvement and say volunteer participation will help ensure a truly great event.
"We are proud to support the volunteers of havin' a time: Reunion 2012," said Earl Ludlow, president and CEO of Newfoundland Power, a key partner in the summer's reunion. "Volunteerism is a perfect example of what Newfoundlanders and Labradorians are all about -- coming together to improve our communities and make this place we proudly call home better for those around us."
So be sure to drop by The Landing, room 3018 of the University Centre, on Tuesday, June 19, from 10 a.m.–12 p.m. to sign up, enjoy a treat and mingle with friends.
Volunteer signup sheets will also be available online at http://reunion.mun.ca/reunion_2012/volunteer.php.
Snapshot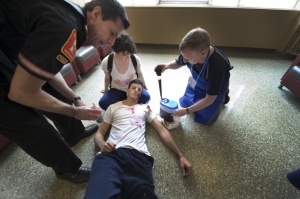 Role play