Memorial University reaching out to Nunavut
By Sharon Gray | July 3, 2012
Memorial University's Faculty of Medicine has a solid reputation for training family doctors for work in rural and remote areas. Now that expertise is being put to good use in Nunavut to develop a new program that will provide family medicine residents with a structured and longer-term educational rotation in the Territory.
Funding for the Nunavut Family Physician Residents Project (NunaFam) project is provided by the Government of Canada. In response to Nunavut's ongoing challenges to recruit and retain family physicians, the federal government will provide $4.9 million to support up to eight newly-graduated doctors to do their family medicine training in collaboration with Memorial University.

The NunaFam Project will also establish a Family Practice Training Centre based at Qikiqtani General Hospital in Iqaluit, which currently serves as the main referral centre for the Qikiqtalluq Region of Nunavut. The training centre will provide additional educational and academic networking support for physicians practicing in Nunavut, as well as being a focal training point for residents in this project.
This extended exposure will encourage residents to stay and work in Nunavut after the completion of their medical training. While based in Iqaluit, the eight residents will conduct visits to several communities including those in the Qikiqtalluq (Baffin) Region.

"This collaboration will enhance support for family physicians working in Nunavut on an ongoing basis and will encourage their continuing medical practice in the Territory," said Dr. James Rourke, dean of medicine at Memorial University.
Memorial University faculty and staff have already made two site visits to Iqaluit. In June 2011 Dr. Ean Parsons, faculty site lead for the Iqaluit site, Dr. Cheri Bethune, faculty development co-ordinator, and project manager Linda Kirby visited to meet the people who will be involved in the project and do some faculty development. In February 2012 a larger group travelled to the Territory: Dr. Parsons and Ms. Kirby returned, along with Dr. Marshall Godwin, chair of Memorial's Discipline of Family Medicine; Dr. Danielle O'Keefe, program director; Patti McCarthy, educational co-ordinator; Reanne Meuse and Shannon Aylward, the project evaluation team; and John Crowell, photographer with the Faculty of Medicine.
Dr. Amy Pieroway is one of the family medicine residents who has already spent time in the Territory.
"I had an amazing time in Nunavut," she said. "The work was stimulating, the people were kind and funny, and socially there was so much to do. I decided to go to Nunavut because I always like to seek out new experiences, and to challenge myself, both medically and personally. I love to travel and had always heard great things about Iqaluit and Nunavut, so when the opportunity presented itself, I jumped at the chance."
Dr. Pieroway said practising medicine in Nunavut was completely different from any other clinical experience she's had.
"Having done rotations across Canada, in the Caribbean and Western Africa, I thought I might have an idea as to what to expect, but it exceeded my expectations in every way. The patients were challenging, and not having the backup of a bevy of specialists as we do in St. John's allowed me and the family physicians practising in Nunavut to really work through the full spectrum of a general practice. I delivered babies, did home visits with elders in Cape Dorset, worked in the emergency department and did work in the tuberculosis clinics."
The family medicine resident said one home visit stuck with her in particular.
"I was in Cape Dorset doing a community visit, and we were asked to go to the home of one of the elders as she was not particularly mobile, and was blind, so she was unable to attend our medical clinic," said Dr. Pieroway. "As we were preparing to leave her home, she was asking a few questions about us. I was described as the tall woman from Newfoundland, and she wanted to stand up beside me to see how tall I really was. So after some manoeuvering, she stood up, clutching on to my hips and she reached about halfway up my chest. She would reach upwards to feel my face, and then she would laugh outrageously and feel downwards to make sure I wasn't standing on a stool. She couldn't believe that women existed who were six feet tall! As we were leaving she said to us through a translator that when she was a little girl she was afraid of white people, as so few visited her community. She never dreamed that one day she would be inviting them into her house."
Dr. Pieroway has already made plans to return to Nunavut, whether for a locum or a longer stay.
"My experiences there were so positive that I knew I would return long before I even left."
Dr. Madeleine Cole, director of medical education for Nunavut, said the residents from Memorial were kept busy during their time in the territory.
"Clinically, they were able to deliver lots of babies, work in a busy emergency room, learn about and see tuberculosis and go on visits to the smaller fly-in communities to do clinic medicine. Residents have also done medical outreach and advocacy work such as health teaching visits to the women's shelter and providing first aid at speed skating tournaments."
Dr. Cole said the experience is beneficial for all residents training in Nunavut.
"The residents from Memorial have lived with and befriended residents from other family medicine and pediatrics programs who are also here, making for a collegial learning environment."
Snapshot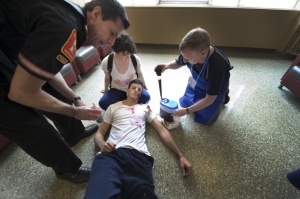 Role play