Campus-wide power outage to take place this weekend on St. Johnís campus
July 3, 2012
Memorial's Facilities Management is planning for major infrastructure upgrades to the main campus electrical systems which will require a campus-wide electrical outage spanning five days, Friday, July 6, 6 p.m., to Tuesday, July 10, 5 a.m.
The outage is required to enable the replacement of several power distribution cables. A number of buildings on campus have backup power systems which will be used to maintain critical systems in those facilities. Other stakeholder needs have been identified and localized emergency power has been arranged for those areas. This outage will not affect the Health Sciences Centre.
The university community is advised that normal power will be disrupted during this period and to make arrangements which will limit the disruption to their operations. Sections with specific concerns or requirements may contact Facilities Engineering and Development at 709-864-8725, for further information. Further information and updates will be available at www.mun.ca/poweroutage/index.php.
Faculty and staff on the St. John's campus are asked to turn off and unplug all electrical equipment, remove food from refrigerators, close all windows and turn off all lights before leaving campus on Friday, July 6. Telephones do not need to be unplugged. Facilities Management asks that electrical equipment belonging to individuals on vacation or who are away from the office be unplugged by their colleagues.
The Paton College and Burton's Pond residence complex will be on emergency power systems but will have partial power sufficient to allow the buildings to be occupied and used.
Paton College will have emergency power to the Main Dining Hall and Barnes, Rothermere, Burke and Squires Houses. Doyle, Bowater, Blackhall, Curtis and Hatcher Houses will be closed.

All occupied buildings in Burton's Pond (Guy, Gilbert, Cartier and Baltimore) will have full power.

All classes scheduled for Monday, July 9, have been cancelled.
As well, the previously scheduled drop date of Monday, July 9, for a 25 per cent tuition refund for undergraduate summer session courses has been moved to Tuesday, July 10.
Previously scheduled distance exams scheduled on Friday, July 6, and Saturday, July 7, will be relocated to the Health Science Centre. This relocation will affect distance exams scheduled for the St. John's campus only. Other exam locations will not be affected. Students scheduled to write distance exams at the St. John's campus can view new exam locations in Memorial Self Service (under the distance education menu) and within Desire2Learn on individual course homepages.
During the power outage, it is likely that Computing & Communications' service delivery will be affected. While both main data centres will be active through generator backup, buildings without emergency generators will lose connection to MUNet. This means that telephone access and all computer/Internet access will be lost. To view the entire list of services C&C is updating daily, please visit www.mun.ca/cc/news/campus_power_outage_jul6_10.php.
Memorial's external network connections should not be affected, therefore access from off-campus will be as normal, except that any users who usually access their work from home via Remote Desktop Protocol will likely lose this ability as their on-campus desktop will be powered down. For those who use VPN access, there should be no interruption in service. Clients having questions or concerns about these outages and how they may be affected are encouraged to contact the C&C Service Desk at 709-864-4595 or help@mun.ca for further information. Network updates can also be viewed at www.mun.ca/main/outages.php.
Snapshot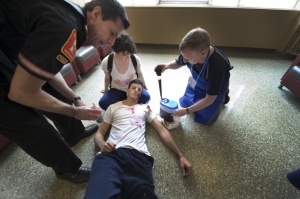 Role play