Journal of Neuroscience issues retraction
July 4, 2012
The Journal of Neuroscience, the scientific publication of the international Society of Neuroscience, has retracted a paper that was authored by researchers from Memorial University that it had published in its Sept. 27, 2006, issue.
The article, Bidirectional Dopaminergic Modulation of Excitatory Synaptic Transmission in Orexin Neurons by Christian O. Alberto, Robert B. Trask, Michelle E. Quinlan and Michiru Hirasawa, was found to contain illustrative errors in two figures. One error was an unintentional duplication of electrophysiological traces shown as an example of the experiment and the other error was in the x-axis labelling of a graph. The authors of the research paper had requested a figure correction, which was not granted by the journal. Rather, the journal felt that, with the two errors, the article no longer met the standards of the publication and retracted it.
In November 2011, Memorial University was informed of the problem with the article. Subsequently the university conducted an investigation which confirmed that the errors were unintentional and that they affected neither the conclusion of the specific experiments shown in the figures nor the overall conclusion of the paper.
The result of Memorial's investigation was accepted by Dr. Gary Kachanoski, president and vice-chancellor, and any suggestion of research misconduct was dismissed. The Journal of Neuroscience was informed of the result of that investigation in January 2012.
Dr. Christopher Loomis, vice-president (research), Memorial University, said that the university took immediate action in this case as it takes allegations of research misconduct very seriously.
"Memorial University is committed unequivocally to integrity in research," he said "To this end, the university has stringent policies and procedures in place to protect research integrity, and we initiate prompt investigations into any allegation of misconduct in research."

Snapshot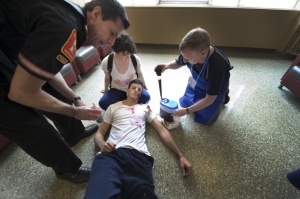 Role Play