Global energy needs topic of guest lecture
By Darcy MacRae | July 19, 2012
The Faculty of Engineering and Applied Science is pleased to welcome a guest lecturer who will speak about global energy needs and the long-term viability, scalability and sustainability of non-renewable and renewable energy sources.
Dr. Derek Abbott, a professor with the University of Adelaide in Australia, offers a seminar titled How Do We Supply the World's Energy Needs?" on Monday, July 23, at 11 a.m. in EN-4002 (Ocean Engineering boardroom) of the S.J. Carew Building. All students, faculty and staff from Memorial University are welcome to attend, as are members of the general public.
An abstract from Dr. Abbott's lecture is as follows:
Future energy supply is a major global problem. Although no one knows exactly when oil production will cease, its days are undoubtedly numbered and its environmental shortcomings well recognized. Clearly, however, any alternatives that involve extracting resources from the earth will be similarly unsustainable, at best only temporarily deferring the problem. So where does the answer lie? In this presentation, this question is examined by expanding our vision to consider energy supply on a massive scale -- collaboration between electrical engineers, economists and chemical engineers could potentially provide solutions to power the entire world. We take a fresh look at the major non-renewable and renewable energy sources and examine their long-term viability, scalability and the sustainability of the resources that they use. We achieve this by calculating what would happen if each energy source was a single supply of power for the world. From this perspective, we find a dominant solution emerges for providing the world's energy needs.
Dr. Abbott has worked at the University of Adelaide since 1987 and is currently a professor in the School of Electrical and Electronic Engineering. His research interests include complex and quantum systems, multidisciplinary applications of physics and engineering, biomedical and bio-inspired engineering, stochastic phenomena and computational neuroscience.
He holds more than 350 patents/publications and has been invited to speak at more than 80 post-secondary institutions around the world, including Princeton University, Massachusetts Institute of Technology (MIT) and the University of Cambridge, U.K.
Dr. Abbott co-authored the book Stochastic Resonance and co-edited the book Quantum Aspects of Life. He is a fellow of the Institute of Physics and the Institute of Electrical and Electronics Engineers.
Snapshot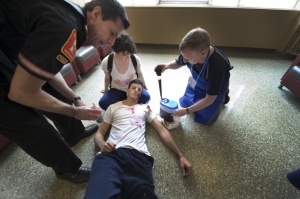 Role play