Human Kinetics and Recreation alumna returns to Memorial to teach
By Michelle Osmond | July 19, 2012
Dr. Erin McGowan has just returned to the School of Human Kinetics and Recreation (HKR); this time as an assistant professor of sport, exercise and health psychology.
Dr. McGowan, who's originally from Aylmer, Que., recently graduated from the University of Western Ontario with a PhD in kinesiology, specializing in exercise and health psychology. She's also an alumna of Memorial and HKR with a master of science in kinesiology. She also has a B.Sc.(hons.) in human kinetics from the University of Ottawa.
Most recently, Dr. McGowan was a Canadian Cancer Society Research Institute funded post-doctoral research fellow at the University of Alberta, studying behavioural medicine in the Department of Physical Education and Recreation.
Dr. McGowan's research focuses on promoting healthy lifestyle behaviours through theory-driven physical activity interventions. Specifically, the promotion of physical activity to address three main issues: preventing cancer occurrence, mitigating the side effects of cancer and its treatments, and preventing cancer recurrence.
"My decision to return to Memorial was based on the amazing experience I had here while doing my master's degree," said Dr. McGowan. "I loved the university, the Human Kinetics and Recreation program, the professors and the city. So it really wasn't a hard decision to return as a faculty member. It's a great honor, and I'm very excited."
Snapshot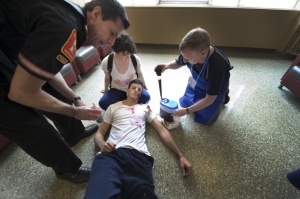 Role Play