Federal minister visits medical school
By Sharon Gray | July 23, 2012
Peter Penashue, minister of intergovernmental affairs, visited with researchers at Memorial's Faculty of Medicine July 20, where he highlighted how federal investments are helping strengthen health care across the country. He was accompanied by Dr. Kellie Leitch, parliamentary secretary to the minister of human resources and skills development and to the minister of labour.
Minister Penashue and Dr. Leitch met with researchers Drs. Marshall Godwin and John McGuire. They also met with Dr. James Rourke, dean of medicine.
"Our government is proud to support outstanding health researchers at Memorial University," said Minister Penashue. "I was delighted to meet these researchers and find out how their work is helping to improve the health of people in Newfoundland and across Canada."
Dr. Godwin is investigating new health care delivery strategies (nursing services to the elderly and health coaching to middle age adults at risk of heart disease) and whether they result in improved health outcomes. Dr. McGuire is seeking to find new drugs to prevent and treat cardiovascular diseases, such as heart disease and stroke. Both researchers are supported with funding from the Canadian Institutes of Health Research (CIHR).
"Funding from CIHR provides essential support for researchers like Dr. Godwin and Dr. McGuire," said Dr. Rourke. "At Memorial's Faculty of Medicine, we are doing research that makes a difference in a broad range of areas from primary healthcare to basic science, and the ongoing funding from CIHR ensures that we will continue to make progress in finding answers and improving the health of our people."
Minister Penashue and Dr. Leitch joined other members of the federal government who made similar visits with health researchers across the country.
"We're holding events like this for two reasons," explained Minister Penashue. "We want Canadians to know more about what amazing health research is happening right in their own backyard. And we want to highlight just how proud our government is that we are able to financially invest in the excellent work that health researchers are doing here in Canada, which will ultimately help improve the health of Canadians."
The minister said that although we cannot always predict what the next big health challenge will be, "we can act strategically and maximize our ability to respond."
Referring to the research done by Drs. Godwin and McGuire, Minister Penashue said they are providing the evidence needed, when it is needed.
"Today we are shining a spotlight on projects that have developed and implemented innovative solutions to important health issues."
Since 2005-06, the federal government has invested more than $27 million in health research in Newfoundland and Labrador through CIHR.

Snapshot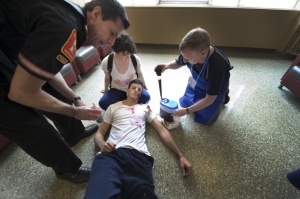 Role play