Dropkick AIDS
July 24, 2012
The Memorial University-Canadian Foundation for AIDS Research Centre (MUN-CANFAR) is hosting a five-a-side soccer tournament on Saturday, July 28, on the Physical Education field on the St. John's campus.
CANFAR is Canada's only independent charitable foundation dedicated to eliminating HIV and AIDS through research. The event will allow Memorial's student arm of the organization to help raise awareness and fundraise in the fight against AIDS.
In addition to the casual mini-soccer tournament – which is open to all – there will be a bench-side summer barbecue available for participants and spectators. Everyone is invited to register a team of five players and compete for prizes of free movie passes.
For even more fun, an emcee will play music and provide entertainment for spectators and players alike.
"It is important for us all to raise awareness about the AIDS pandemic," said Collins Nwabunike, president, MUN-CANFAR.
To register, send your team's names to canfar@munsu.ca, before 12 p.m. on Saturday, July 28. Registration is free of charge for Memorial students; a $5 fee for non-students is required.
For more information about MUN-CANFAR or to get condoms or advice about various HIV preventive measures, contact canfar@munsu.ca or 709-709749-7920.
Snapshot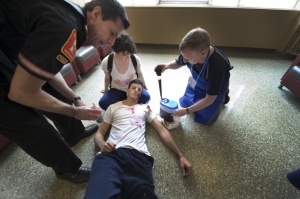 Role Play