Memorial University counts down to Reunion 2012
By Jennifer Batten | July 26, 2012
Memorial University's havin' a time: Reunion 2012 event is right around the corner. The university's first ever all-year, all-faculty and all-campus event is happening Aug. 8-12 at St. John's campus, the Marine Institute and Grenfell Campus.

The event will be an opportunity for alumni to reconnect with friends and colleagues, reminisce on their time at the university, make new memories and most importantly, have fun.
Highlights include a kick-off celebration, a speaker series featuring prominent Memorial professors and alumni, an alumni job fair, activities presented by faculty and school groups and family-oriented events.

The Wicked Memorial Variety Show at Mile One Centre will top it all off and promises to be an unforgettable evening for alumni and friends. The show will feature Hey Rosetta! and The Wonderful Grand Band, with special performances by Amelia Curran, Barry Canning, Andrew James O'Brien and Jonny Harris. Mark O'Brien, known for his breakout role as Des Courtney on the hit CBC series Republic of Doyle, will be the show's emcee.
To register for Reunion 2012 activities and for full details and event listings, visit
www.reunion.mun.ca
.
Reunion 2012 is made possible with the support and generous contributions of our valued partners, including The City of St. John's, Newfoundland Power, Steele Communications and TC Media.
Snapshot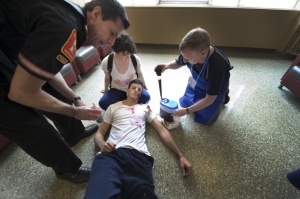 Role Play